Animal Extravaganza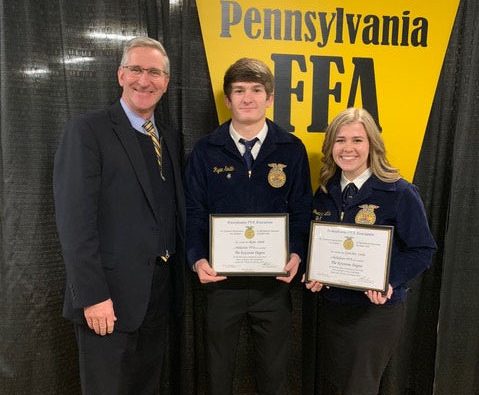 By KERRI HOOVER
The Centre County Grange Fair and Encampment is not the only large agricultural based event held annually in Pennsylvania. In fact, the Pennsylvania Farm Show hosts the largest indoor agricultural exposition under one roof in the entire country. It features 6,000 animals, 10,000 competitive exhibits, 300 commercial exhibits, and hundreds of contests and demonstrations each year- in which some can be seen while at the Grange Fair. However, unlike the local event which harvests a herd of people clothed in tank tops, short sleeve shirts, shorts, and sundresses, the PA Farm Show welcomes its visitors inside to enjoy the festivities while escaping the cold winter weather.
The events of the 103rd annual Pennsylvania Farm Show commenced on the first Saturday of January and continued for a week until the following Saturday. The eight days are filled with numerous activities and exhibits in which visitors can enjoy well into the evening, since it runs for thirteen hours a day. During the week, people can participate and watch animal shows, artisan demonstrations, square dancing, rabbit hopping, food contests, auctions, tractor pulls, and rodeos, just to name a few.
"The atmosphere at the Farm Show is incredible. Everyone is excited about the eight action-packed days ahead of them. Whether it is your first time or your tenth time at the Farm Show there is always something new to see, do, and learn," senior Gretchen Little said.
In addition to the daily attractions, the Farm Show provides a way for visitors to learn more about the diverse agriculture of Pennsylvania along with the hardworking and inventive brains behind it. Guests have the opportunity to experience the importance of agriculture up close and personal through various educational presentations highlighting where food comes from, how it is prepared, and sold, food safety, animals, agricultural related career fields, and National FFA Organization demonstrations from statewide chapters.
Individuals of all ages attend the Farm Show, each having a different reason for visiting such as family traditions, educational purposes, contestants in various shows and competitions, or even to experience something new. However for two Bellefonte High students, their annual trip to the Farm Show was unlike anything previously experienced.
Seniors, Gretchen Little and Ryan Smith, traveled to the PA Farm Show in order to receive their Keystone Degrees. They received these degrees while at the Pennsylvania State FFA Association Mid-Winter Convention which took place during the week of the PA Farm Show. The convention took place on Monday, January 7. During the event, 411 Keystone Degrees were presented to FFA members along with 365 blue corduroy jackets in addition to inducting four new charters into the organization.
"
I am so grateful to have had the opportunity to receive my Keystone Degree and return to the Farm Show. Being surrounded by a sea of corduroy blue jackets is a feeling like no other and receiving my Keystone Degree is an experience I will never forget,"
— Gretchen Little
The Keystone degree is the highest degree that FFA members can obtain at the state level. In order to receive a Keystone degree, applicants must go through a highly involved process that requires approval from their FFA advisor and State Board. However, prior to gaining approval from both parties, an interested student must meet all the needed requirements in order to apply. These requirements include: a membership with a FFA charter for the past 24 months, current senior or graduate, completed two years of agricultural related courses, completed over 300 hours in a Supervised Agricultural Experience or productively invested $1000, participated in 10 FFA chapter activities, participated in 5 FFA activities that go beyond the chapter level, and completed 25 hours of community service to local organizations. Upon meeting all of the above requirements, applications and submissions of project record books are presented for review in order to ensure complete accuracy.
Gretchen and Ryan were the third and fourth recipients of the Keystone degree at Bellefonte since Agricultural Sciences teacher and FFA advisor, Mrs. Myken Poorman, began advising the club 10 years ago. No student from Bellefonte has earned the honor since 2016, when Taylor Mauk and Norah Smith, Ryan's older sister, received it.
"I am so proud of the hard work and dedication that Ryan and Gretchen put into earning this award. It takes a lot of hours to enter all the information into a very specific computer program with many checks and balances that have to be just exact or it will not work. Besides entering the information, these students have put in many hours with SAE projects, whether working with their animals or promoting agriculture. I am so very grateful that they serve as officers of Bellefonte FFA," Mrs. Poorman said.