Gretchen Little has big plans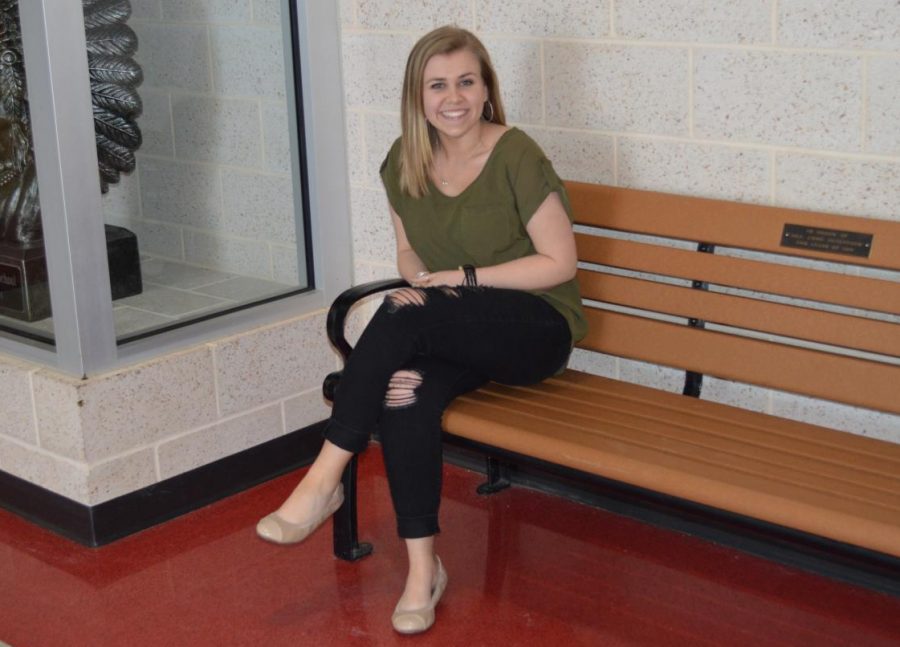 By OLIVER RICE
Senior Gretchen Little has had an impactful presence here in Bellefonte. She has been a source of joy to most everyone and has taken part in a wide variety of school activities.
Gretchen is a part of the National FFA Organization, Raider Revolution, Spanish Honor Society, National Honor Society, Class Cabinet, and she is the manager of the high school's wrestling team.
"Being a part of so many different school activities has taught me a lot about time management. It's prepared me for any future activities that I will participate in college," she said.
After graduating this year, Gretchen says she thinks she'll be remembered for being Dairy Princess and missing so much school, yet she wants to be remembered for everything she achieved during high school.
Gretchen plans to major in Public Relations and Advertising at Penn State after graduating. This means that she'd be handling the public image of companies big and small.
Despite having a bright future ahead of herself, Gretchen will be leaving a lot behind in Bellefonte; the adventures that she'll miss the most are the FFA activities.
"Every conference and competition was different so I got to meet new people and learn new skills. But we had so much fun while learning," she said.
She is also going to miss her teachers, who according to her, were so willing to help her be as successful as possible.
"Listen to your teachers, they really want to help you," she said, to the underclassmen.
Gretchen tries to be just as helpful to her teachers as they have been to her. Mrs. Myken Poorman, Agriculture teacher and FFA Advisor, says Gretchen has been one of her most supportive students.
"Having students I can look to for advice and support is so important for the success of my program and Gretchen has been that for four years," she said. "She isn't afraid to tell people what agriculture is and why it's important."
English teacher Miss Ashlie Crosson taught Gretchen for three years.
"I've never met a student with so much passion and spunk at such an early age," she said.
Within those three years, Gretchen took AP Language and Composition, where some of Miss Crosson's favorite memories of Gretchen come from.
"At the end of the year, Gretchen and her classmates coordinated the most heartwarming and beautiful goodbye/thank you for me. It remains one of the best days of my teaching career," she said.
Gretchen has been an inspiration to Miss Crosson, having been a reminder to how she can improve her teaching ability.
"She's my constant reminder that if all I'm teaching is measurable objectives, I'm not teaching anything at all," she said.
Even before she started high school, Gretchen had formed a strong bond with math teacher Mrs. Sue Besch, since Gretchen was friends with Mrs. Besch's daugher, senior Cati Besch, since the first grade. The girls played soccer together, which is where one of Mrs. Besch's favorite memories of Gretchen comes from.
"Gretchen only played soccer with Cati until she got hit in the face with a soccer ball and said 'this isn't for me,'" she said.
Cati stays positive that even during their college years they will be able to continue some of their traditions.
"I'm going to miss all of the inside jokes and laughs we share and our spontaneous shopping trips… but that will make visits much more fun," she said.
Having Gretchen in her life as helped Cati better herself over the years.
"She has impacted my life because she is one of the most determined and hardworking people I know and always gives her best effort in all aspects of life, and that helps me do the same," she said.
Cati isn't the only friend Gretchen's work ethic and attitude has impacted; senior Ashley Bell feels the same.
"She has a very outgoing personality, while I am more introverted. Over the years that I have known her, I have become more outgoing and I have more confidence," she said.
Ashley shares the time the two were driving home from a graduation party and they almost hit a deer, Gretchen's reaction still cheers up Ashley.
"She was very overwhelmed and screamed about five seconds after it actually happened, and the memory still makes me laugh when I think about it," she said.
Gretchen has helped make Ashley's day less boring and she's been a source of entertainment for those around her. Senior Jacob Nichols says Gretchen is "funny and charismatic," which he'll miss."I will miss being around her bright personality. I will also miss holding her small hand in my big paws," he said.
Gretchen Little has wowed everyone she has met time and time again. She has left an unforgettable impression on the school and town and she will go on to leave a mark on the world.