A variety of talents at Bellefonte High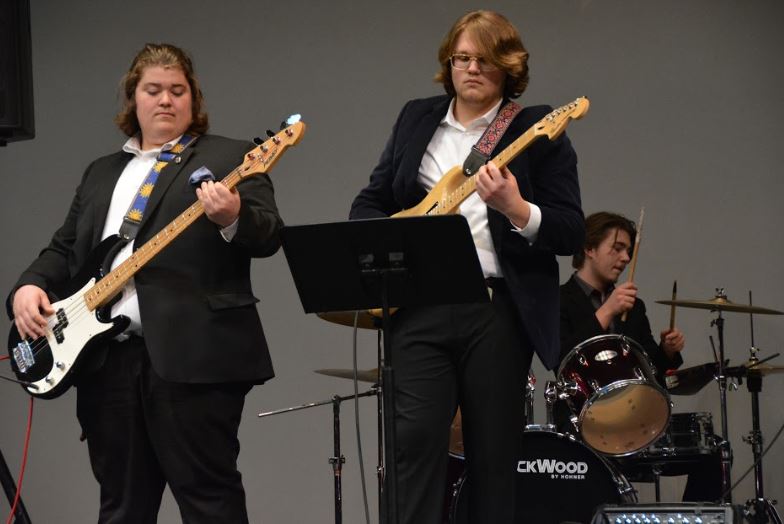 By AMAYA ROTHROCK
Students throughout Bellefonte High got the chance to show their talents to the Bellefonte community on February 26 at the Variety Show. The 2019 Variety Show was the second variety show that Raider Revolution hosted.  Raider Revolution is a club that encourages positive behavior and enforces many important rules. Refreshments were provided to be purchased along with candy grams for the performers in order to raise money for the club.
There were many performances consisting of singing, dancing, and playing instruments. There was a special performance by Bellefonte High's very own band, Sauce. Sauce's members are seniors Hunter Bowser, Mason Keeler, Halle Mitchell, and Johnny Purnell. Halle sang while playing the piano, Mason played the drums, and Johnny and Hunter were the guitarists. Senior Dante Nelson is also in the band and plays the saxophone, but could not make it to the performance.
"My friends and I created Sauce last school year, junior year. Hunter and Mason started the idea and talked to the rest of us, and then we ended up putting the band together," Halle said.
At one point during the show, Sauce was accompanied by high school Band Director Mr. Caleb Rebarchak, who played the saxophone.
"The thing that I enjoyed the most about the Variety Show was playing with our honorary member, Mr. Rebarchak. In total, that song was just a groovy song that I have always enjoyed, and we just had a lot of fun on the stage," Halle said.
Sauce was one of the many performances that showcased original songs. The original songs made the performances even more unique and was a great addition to the show. There was also a performance in another language. This especially unique performance was by freshman Lilly Christopher, who sang an entire song in Chinese.
"I was inspired by my Chinese teacher, Ms. Bu, who I really look up to. I am not quite sure how I memorized it, but I first sang the song two years ago at the [middle school] Chinese Gala. It is a bit of a longer process to learn a song in another language, but I am glad I was able to do it," Lilly said.
Along with the original songs, there were quite a few Broadway songs. Students with powerful voices blew the audience away while they sang songs from musicals.
"My favorite part of the show was probably the Broadway-style singers with the powerful voices, as they always sound so beautiful to me," Lilly said.
There were some minor technical difficulties as there are with any show. Senior Megan Irwin and sophomore Keri Carroll sang "If Momma was Married" from the Gypsy musical together. However, Megan's microphone appeared to be off but they were able to come back to the stage later in the evening and sing again.
"If I am being honest, I did not even realize the mic went out at first. We just kept singing and Megan was awesome and just sang her heart out. At the end of our performance, we were really satisfied with how it went. It is so great to see all the hidden talents in our school and watch them showcase it," Keri said.
There was a great turnout at the show. The auditorium had a lot of people attending and everyone appeared to have enjoyed the show as they were dancing along to some of the songs performed.
Sophomore Maddie Morelli was an attendee and had a great time at the show.
"I really enjoyed Mr. Chapman's performance. I never knew that he played the saxophone, but it was a really good performance. I also really like Sauce. I never heard them play live and they did a great job. There were a lot of neat talents at the show," Maddie said.