Dominating Districts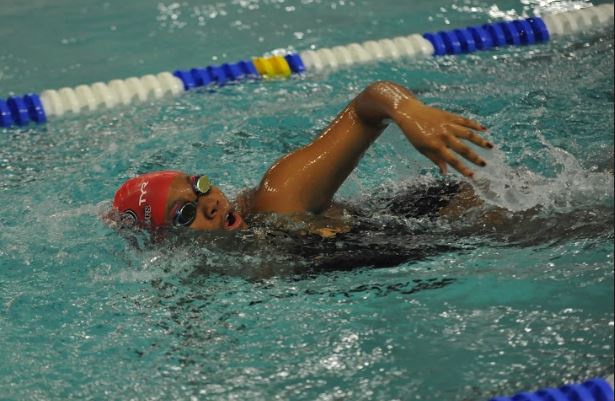 By KERRI HOOVER
Even though we have not seen summer for seven months, not all pools are closed for the winter season. For the girl's and boy's swimming teams, the transition from warm weather to cold does not stop their willingness to jump back into the pool for yet another successful season dedicated to improvement and team bonding.
"They are a very amazing group of people that treat each other like a family. I have never felt more welcomed into a sport," sophomore Kendra Miller said.
In preparation for each meet, the swimmers practice six days a week – two hours each day except for Saturdays which last 30 minutes longer. In addition, every other day, they spend an additional hour lifting weights following practice. Optional trainings are even available on Tuesdays and Thursdays prior to the start of school, if members of the team wish to attend, in order to gain additional practice and further condition their bodies with hopes of breaking personal records.
"If you don't go to practice, you will never get to where you want to go," freshman Maijani Johnson said.
Despite being one of the smaller teams in recent years, composed of 12 girls and four boys, they hoped to make their mark, earning themselves a shot to compete at districts.
The teams are coached by Mr. Matthew Horner, a second year head coach who is the older brother of Harrison Horner, a competitor on the boy's team. In addition, the teams are co-led by seniors, Zoey Cole and Hannah Thomas.
"My favorite part of coaching the Red Raiders is being able to give my knowledge and passion back to the swimmers that swim for my alma mater. The team has progressed well throughout the season. Being able to train at the level we are for the first time is going to be exciting to watch at districts," Coach Horner said.
While the boy's team did not have any captains on their team this year, they did not let that discourage them, however, as they earned a spot to compete at the district meet. Not only did the boy's team get a chance to participate on the district level, but the girl's team achieved their goals as well and competed along with the boys on March 1. To get pumped up for the meet, the girls even dyed the tips of their hair red to showcase their school spirit and team unity.
"The energy we have is so unique. Our team has grown so much closer and improved so much this year," senior Caroline Helms said. "I wouldn't have wanted to bring my career to a close with any other team."
Districts proved to be successful as both teams placed within the top ten – the girl's winning sixth place and the boys placing seventh. However, for two lucky competitors, there season was yet to be drawn to a close. Senior Zoey Cole and sophomore Harry Horner competed at states based on their qualifying times at districts in the 100 meter fly, 200 and 500 meter freestyle races.
While at districts, Zoey won first place and broke two school records in the 200 meter and 500 meter freestyle ultimately landing her a spot in states. She placed 12th in the 500 meter freestyle getting All-State Honorable Mention for the first time in Bellefonte's history since 2015.
"I am grateful for everything swimming has taught me including patience, strength, perseverance, but I think what I have gained the most is a sense of who I am and friendships that I will cherish forever. Getting these awards and achievements is just a bonus to everything I have learned and worked for," Zoey said.
While the team's size may not have added up in comparison to previous years, the Bellefonte Varsity Swimming team did not prevent a head count from fostering individual and team growth, building new friendships, forming great memories, and ultimately earning a chance to compete in the Mountain League and at All-States. Each swimmer, regardless of age or years of participation, brought a unique element to the table constructing a determined and successful team that made the atmosphere more enjoyable and family-like.
"I am proud of the time and effort my team gave everyday to improve. The seniors have laid the groundwork for the team in years to come and I wish them nothing than the best," Coach Horner said.