Rolling up the mat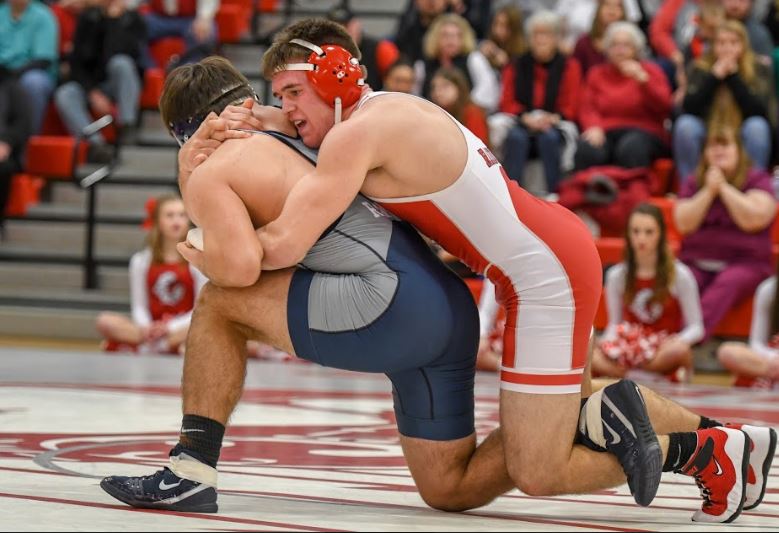 By KERRIGAN TYSON
Bellefonte High School is known for their football, basketball, and soccer; but we are also known for the wrestling team, which is coached by U.S. History and AP Microeconomics teacher Mr. Michael Maney.
With spring sports already starting, the wrestling season ended on a good note, and players can look back on a successful season with a record of 24-3.
The wrestlers on the team had improved a great deal from the start of the season – even if the season didn't start with a very good performance against Tyrone. Though it did lead to a victory, the team had strengthened their abilities for future matches.
"Each competition present[ed] its fair share of challenges," Mr. Maney said. "We always coach our wrestlers to approach each competition the same, never overlook anyone, always give your best effort…this will allow you to wrestle your best."
Every team has their strengths and weaknesses. Some of these strengths and weaknesses affect an individual, while others can affect the entire team, but they always pulled through in the end.
"Even though we dealt with many injuries and illnesses this season, we still came together to wrestle the best we could," senior Ryan Smith said.
Along with the weaknesses of a team come the strengths. Most of these strengths were enforced under pressure from the coaches and the thought of the future competitors, while others were brought by the sheer will to win.
"I think that some of our strengths was the high level of conditioning, and the coaching staff that pushed us," junior Brady Martin said. "They pushed us to a point where we were uncomfortable, and that mentality really set us apart from our opponents."
With wrestling comes rivals, most commonly being other schools in the district. Sometimes these schools can bring challenges or potential threats in matches, but these don't always cause the match to be dull or frustrating; of course, the thought of losing to a rival could cause someone to be a bit annoyed, but in the end Bellefonte always came back at them, being stronger than ever.
"Any time you get to compete is a tremendous opportunity and we are grateful for the opportunity to participate in this great sport. The rivalry matches [were] always fun against Bald Eagle and other Centre County schools," Mr. Maney said.
One of the many schools that our wrestlers competed against was at Penns Valley, which posed a challenge on the Bellefonte team.
"Penns Valley was a tough match, in which both of our varsity teams came into as undefeated teams. They had a phenomenal set of wrestlers, and so did we. The match came down to bonus points, just like our coaches told us it would before the match began. All of our guys went out and wrestled a hard six minutes, and we took the win," Brady said.
Bald Eagle and Penns Valley weren't the only schools that posed a challenge on the team. Another one of these schools happened to be another in the district: Central Mountain.
"…because they gave our team the biggest competition and the match came down to the last couple matches," Ryan said.
As the seniors graduate and leave the team, the underclassmen make their way up in the team, training harder, learning new skills, and learning more techniques. The coaches have kept their eyes on both Ethan Richner and Ethan Rossman; both of these sophomores have high potential for future seasons, with both of them placing in pretty much every tournament of the season, and being consistent performers. Bellefonte has high hopes for the seasons to come, waiting to see who will stick with the team until they graduate, especially when it comes to some of the underclassmen that are a part of the team.
"Our lower classmen have a bright future. Out of our four wrestlers that advanced to the state tournament, three of them were sophomores. In all of our matches, we could count on those three guys in particular to go out and put points up on the board. As a team, and as a community, I feel that we are very excited to watch them go out and do their stuff on the mat again the next couple of seasons," Brady said.