Mathematician and Musician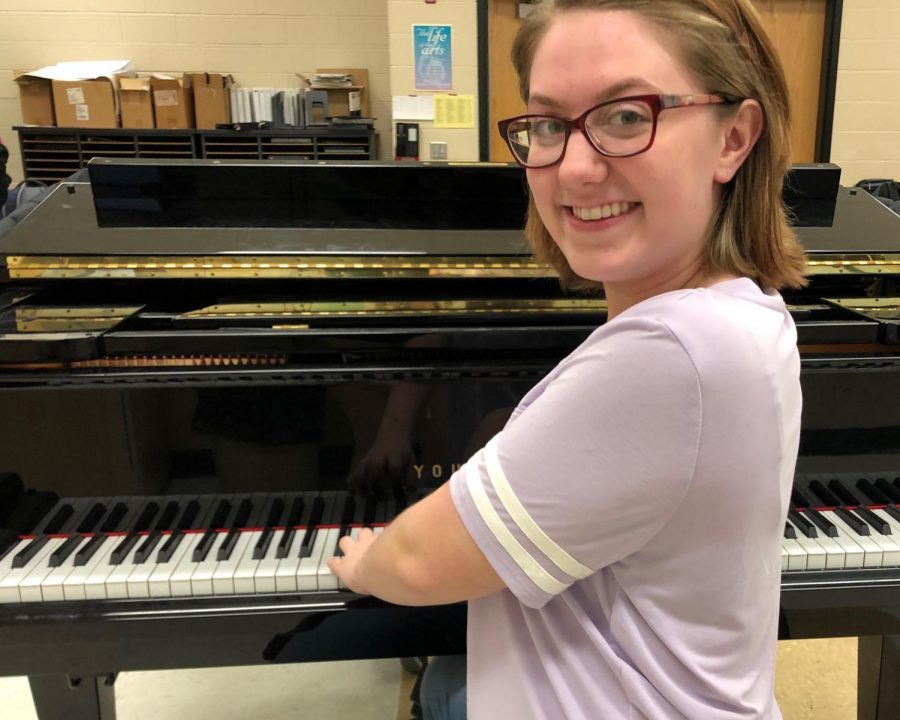 By LILY WICHERT
Halle Mitchell is an involved, outgoing, and intelligent student, and is a senior Bellefonte will miss. Halle is not only superior with her academics, but is well known for her kind hearted personality that gleams within just one conversation. And on Awards Night this past Wednesday, Halle earned the title of Valedictorian of the Class of 2019.
She is a valuable member of the Drama Department, as she held the lead of "Donna" in this year's spring production of Mamma Mia!, and has been involved in previous shows. Halle is also the treasurer of Spanish Honor Society, National Honor Society, and Drama Club, as well as the president of Model United Nations. Halle has won multiple awards for her role in Model UN Conferences.
During Halle's sophomore year, she was selected for the Hugh O'Brian Youth Leadership Representative of Bellefonte. Halle is involved in the Pennsylvania Music Educators Association for District Choir and Jazz, and has gone to the Regional, State, and All Easterns levels this past year.
Halle has attended the International Thespian Society Conference every year, an event for musical theatre students to showcase their talents. The past two years, Halle has qualified for the national level of this competition. Being apart of drama and consistently pursuing her passions of singing and acting have played a large role in Halle's life.
Halle began exploring her musical talents from a young age, as she started taking piano lessons in Kindergarten. Shortly after, Halle began singing in elementary school and involved in Drama in middle school. Halle's musical talents come natural to her, as she explains that she has a "very musical family."
Halle also outreaches into the community with her free time.
"I'm really involved in SECT State College Community theatre; I'm a board member and secretary for the organization," Halle said.
Halle will be continuing to pursue her passions at the next level at Princeton University in New Jersey. Halle is majoring in Mathematics, and minoring in Musical Performance and Musical Theatre.
Drama director Mr. Eric Brinser has been a key influencer in Halle's passion for singing and acting. Halle has learned a lot from Mr. Brinser during her time in high school.
"Halle is one of the hardest working students I know," Mr. Brinser said. "She would always make time to help out another student with a part in choir, or a line in a show. I think Halle's best skill is her perseverance. She has big goals in mind, and those goals take time and patience to achieve. She never gave up on herself, and kept working and growing as a musician and artist."
Halle's Algebra 2 and AP Statistics teacher Mrs. Susan Besch has also been an important influence on Halle and her future plans.
Mrs. Besch describes Halle as a "doctor who understands the medical terminology, but can also explain your condition to you in normal language that you can understand."
It's this trait of Halle that allows her to carry on with her strong academics, while still being willing to lend a hand to any student that needs additional help.
"I loved watching the light bulb go off in her brain," Mrs. Besch said. "She has an excellent memory paired with the ability to build connections from one course to another."
Mrs. Besch shares that she "is 99% confident that Halle will meet with great success at Princeton," (an inside joke among the AP Statistics students).
Halle is a student with a bright future ahead, and appreciates the lessons she has learned from Bellefonte. Halle is "thankful for the opportunities and the people" she has encountered throughout her school career.