Hard work like never before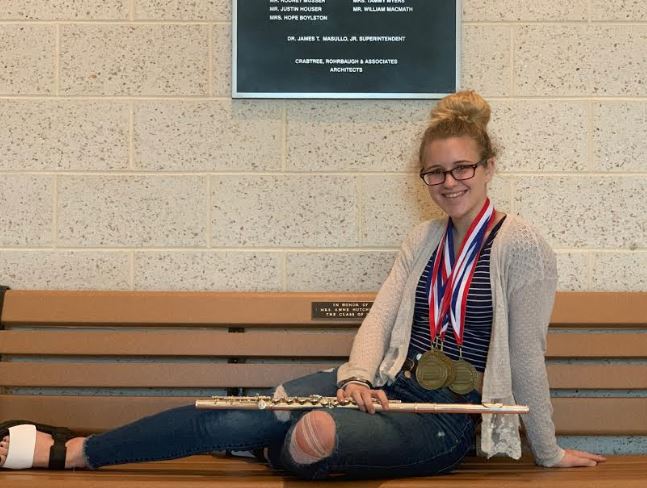 By TYLER MUSE
You may have seen her placing at swim meets or moving on at PMEA festivals this year – senior Zoey Cole is someone who this school will never be able to replace.
Zoey is involved in a variety of in-school and out-of school activities including: Concert Band, Full Orchestra, Horse Care Volunteering, Marching Band, National Honor Society, Nittany Valley Youth Flute Choir, and Swimming. Zoey is most known for her contributions in Band and Orchestra, where she plays flute and piccolo in both.
"I went to District Band and District Orchestra and got first chair at both of those, so I moved to Regional Band and Regional Orchestra and didn't get to advance to All-State. I was a chair away for All-State in Band," she said.
She describes PMEA as having, "highs and lows," because she understands that each judge is different and wants to see certain things. Also, you only have a three minute audition to show what you are capable of achieving. Even though she didn't make it to states, she was excited to she made it to districts and now sees PMEA as a very valuable experience.
"PMEA definitely taught me how to cope with not doing as well as you thought you were, and to work really hard to fix things I knew were wrong and to work really hard in general."
Caroline Helms, who is a fellow senior and who has been in band with Zoey for about nine years now reflects on her musical capabilities.
"Zoey and I have been playing concerts together since fourth grade. She is one of the most technically flawless and musically intuitive players I know. Her desire to perfect her instrument has excelled her abilities," Caroline said.
Caroline's favorite memory with Zoey in Band was hunting her down during the the third quarter to "share cheese fries and joke about our performance."
Zoey reflected on her years in Band now that this year marks her last as being part of that specific group.
"I love Band. It has been a big part of me. It kind of keeps me from going insane from the amount of physical and mental beatings I take from swimming and academics. It has always been an outlet for musical creativity."
Aside from band, Zoey is on the Bellefonte Swim team, where she was a varsity member for all four years. This year included her personal best times out of the four years.
"Senior year was definitely my best year with swimming, I got all best times all season every time I swam. I just worked really hard and I just loved since it was my senior year and I was done."
This year, swim put her in a different mindset. She wasn't stressed or worried about her races because it was her last year doing what she loves. At districts, she came in first at both of her events: the girls PIAA 200 and the 500 yard freestyle. She moved onto states, where she placed twelfth out of thirty.
"I'm proud of my placing at states. It wasn't my best time and I definitely wanted to do better because I had the chance to medal, but I didn't do as well there because I have been sick, but states is such a great experience and it was my first time being able to go back for finals and it was such a different atmosphere and everyone was so excited and it was just really fun."
Being heavily involved in so much, Zoey learned a lot in high school, especially Swim and Band. She learned how to persevere through tough times and how to manage her time since she would have swim practice in the evening and then had to practice her instruments plus do homework on top of all of that. She learned how to grow as an individual and not to worry about others because in the end it all comes down to enjoying what life is bringing to you.
Zoey will be attending Penn State University's Main Campus where she will be majoring in veterinary and biomedical sciences and minoring in equine sciences. She wants underclassmen to know not to overdo it on classes because if you don't know where you are heading in life, it might not be worth it because you could get very sick. She wants to be seen as an example for upcoming and current students that hard work pays off and the effort is needed. Being that she will be graduating on June 7, her mindset is as follows:
"Leave everything in the water. I'm done after this."