A promise worth keeping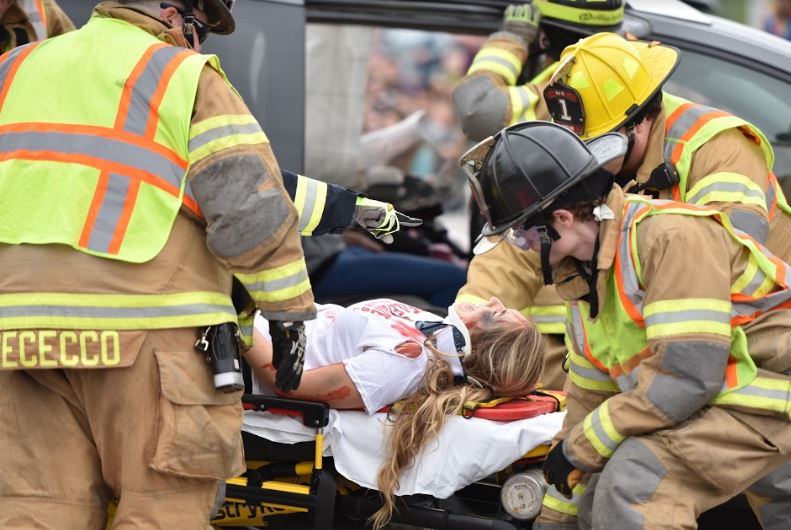 By AMAYA ROTHROCK
Two students "deceased," two students in "critical condition," and one student "under the influence." These were all sights that the students of Bellefonte High witnessed as they reported to the student parking lot at the end of the day on May 1.
Bellefonte High School's Safety Committee and Driver's Education teacher Mr. Mike Wilson put together a Mock Accident to show the importance of being safe and making good decisions on the night of Senior Ball. The recreation included a scene of an accident of a driver under the influence that collided with a motorcyclist.
Two students, Senior Class President Max Kroell and junior Olivia Reiter, were role playing as two deceased victims of a drinking and driving accident and two others, sophomore Bella Corman and junior Madison Hubbs, were in the car that crashed. There was also a dummy in the passenger seat.
Junior Tyler Muse played the driver under the influence. Fire trucks, police cars, and an ambulance all rushed to the scene as if it were real to show what would happen if an accident like this actually took place.
Firefighters took the car apart to "save" the students inside while the driver took a sobriety test.
This was the first time in three years that Bellefonte High has recreated a car accident to show the importance of making good decisions after Senior Ball and throughout their lives in general.
"So many people are involved in doing this full scale drill, that we can only conduct the mock accident every three years or so. In doing so, each student gets to see the drill at least once during their high school years," Mr. Wilson said.
The accident helps give students a real life representation of what a major accident is and what happens when someone makes the decision to drive under the influence. It provides a scene that will stay in the back of everyone's minds and will have a major influence on their decisions.
"The accident is important for the students to view, as a reminder of the consequences that can happen as a result of driving under the influence. We as first responders, parents, faculty, and staff want to see all of the students enjoy prom season, high school, and beyond. We conduct this drill in hopes that nothing like this ever occurs here in the Bellefonte community," Mr. Wilson said.
It is important that students see the reality of a major car accident such as the one shown because not everyone is fully aware of how dangerous the situation can be. Students need to be aware that their actions always have consequences and it can be life changing.
"I believe that it can be impactful on students who take it seriously. Ultimately it is up to the students to decide what they are going to take from it, but I believe most students, especially the ones with their license, will take something away from this," Max said.
The scene took a lot of preparation in order to ensure that everything went smoothly because there are so many different factors that go into the scene. Preparation included getting first responders, student volunteers, and props such as the mangled car and motorcycle.
"Planning is the most difficult part of the whole mock accident due to all of the different agencies and people involved. You have people to organize on the school side as well as people on the first responder side," Mr. Wilson said.
Making sure everything goes as planned tends to be a long process. Planning the accident first began at the beginning of the school year when the Safety Committee expressed an interest in doing the mock accident. They then set an official date and began the process of getting everything together.
"I can tell you countless phone calls, emails, and face-to-face sit down meetings took place to plan out the rest of the logistics to make the mock accident happen. I would also like to point out that all first personnel that were here for the mock accident are 100% volunteer," Mr. Wilson said.
Mr. Wilson has had many years of experience with the agencies involved with the mock accident since he was 18. His inspiration to volunteer countless hours today dates back to when he witnessed his best friend get struck and killed by a motor vehicle when they were both 7 years old.
He now finds himself in the position of Captain of the Logan Fire Company, as well as a Fire Instructor and EMT. Juggling these types of positions require many hours of his time.
"We spend countless hours training, away from our families, sleepless hours, and much of our training, equipment, and gear comes out of our own expense. Keep that in the back of your mind next time you see fire apparatus or personnel out in the community or on an emergency call," he said.