Signing onto their futures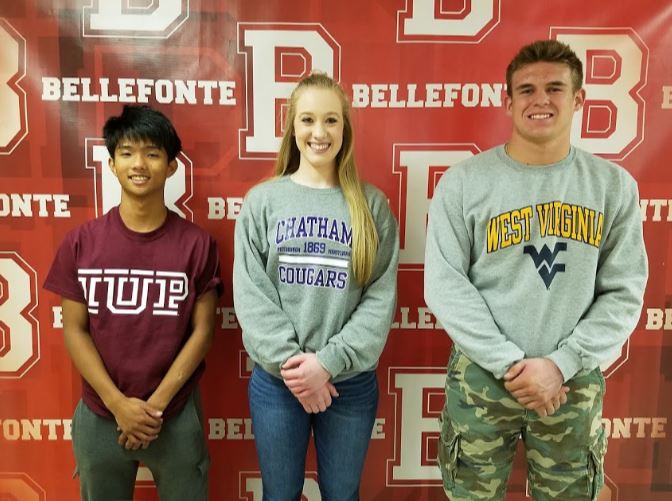 By ANDREW HOWE
With spring sports wrapping up, three more Bellefonte Area High School athletes signed their letters of intent to play their respective sport in college. Seniors Moryelle (Momo) Fernandez, Kyle Myers, and Shaelah Pepperman will be continuing their education while also competing for their school.
Momo is going to be competing in track and field at Indiana University of Pennsylvania while majoring in accounting. He is currently a school record holder for the triple jump and the long jump. He has broken records that date back to the 1970s by over one foot. IUP has exactly what he is looking for: a great program for his intended major and a great track and field program that can help him improve his skills.
"Their jumping coach is really good and I like their style of coaching," Momo said.
Bellefonte track and field jumping coach and science teacher Mr. Christopher Freidhoff has had a great impact on Momo. Mr. Freidhoff has regarded Momo as one of the best athletes to come through the program.
"I remember training him his freshmen year and realizing the potential he had," Mr. Freidhoff said.
Momo has some of the best work ethics that Mr. Freidhoff has ever seen, with an eye constantly focusing on how to improve.
"The kid is an absolute workhorse and I was very lucky to be able to coach him," Mr. Freidhoff said.
Playing a sport in college means a lot to Momo. Jumping for the IUP track and field program gives him the chance to "continue working on something he enjoys."
Kyle Myers has signed to West Virginia University and will be wrestling for their program. He is going to be majoring in organizational leadership.
"West Virginia has a very good program for my major and potential masters. The coaching staff is also very good," Kyle said.
For Kyle, playing a sport in college means a lot to him. It gives him a chance to play the sport that he loves to do and continue doing it. Many people have influenced him throughout his wrestling career up to now. To him, his coaches, teammates and parents have helped him the most with others helping him along the way.
Shaelah Pepperman is going to be attending Chatham University in Pittsburgh, Pennsylvania. While attending here, she will be studying psychology with a focus of art therapy and also playing volleyball.
"This is a dream come true, I have always wanted to play a sport in college ever since I was a little girl," Shaelah said.
Chatham gave her the best chance to do what she wants to do while also playing volleyball.
"Chatham is very close to the center city and they have the platform to jumpstart my career," she said.
Former Bellefonte volleyball coach, Joi McKenzie was one person who had a very positive influence on Shaelah. Joi coached her during the club season the past four years as well as when she coached for the school.
"Joi showed me that with hard work and a chip on your shoulder, you can accomplish anything," Shaelah said.
These three athletes have had great careers throughout high school and will certainly continue that throughout college. It will be a very different atmosphere for them though and they will have to adapt to the challenges that they will face.