Bellefonte brings home champions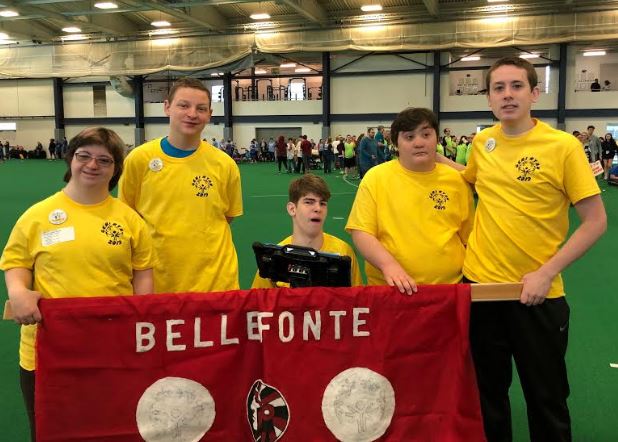 By TORY ABBOTT
Founded in 1968, the Special Olympics have been providing opportunities for people with intellectual disabilities "to discover new strengths and abilities, skills and success" for over half a century. Each year, the organization holds over 100,000 competitions for the 5 million people who participate, and annually, Bellefonte students join this number through their participation in the Special Olympics Geri Ryan Track Event. This year, however, was extra special because not only did Bellefonte students get to participate and place in the events, but one of the students, senior Micah Heckathorne, also had the rare privilege of carrying the torch.
"Knowing that Micah was the torch bearer for this event was heartwarming. One student who faces so much adversity to do some of the most basic things, was recognized as a leader for his peers that day," Life Skills teacher Mrs. Rachael Davis said.
Unfortunately, she was unable to make it to the competition herself due to military training, but says that there was no shortage of teachers ready and willing to take her place in giving Bellefonte special education students an opportunity to compete in the event.
"I can't thank them enough for it," she said.
Of the Bellefonte Area High School students who competed in the events this year, all of them placed in a variety of events such as the 200 meter run and the 25 meter walk. The lineup was as follows:
Micah Heckathorne: Gold in the 50-meter walk and silver in the 25-meter walk. Adam Marchini: Fourth-place in the 50- and 200-meter runs. Ashley Harter: Bronze in the 50-meter run and fifth-place in the 200-meter run. Hunter Sell: Gold in the 400-meter run and bronze in the 200-meter run.Kenny Russo: Gold in the 25-meter walk and silver in the 50-meter walk.
Though she was unable to attend the event itself, Mrs. Davis was still very passionate about the students' opportunity to participate. She finds the benefits of this event to be an increased amount of self-awareness, self-respect, as well as respect for others.
"It shows them that no matter what they should always try and never stop. These students face a variety of adversities that they could easily use as an excuse and not try but we don't accept that. It instills perseverance in them and that will carry them through many trials and tribulations in life," she said.
One teacher who was able to fill in for Mrs. Davis was social studies teacher Mr. Mike Maney, who actually met his wife while helping at a similar event in the past. He agreed with Mrs. Davis about the importance of the Special Olympics and other programs like it.
"They work so hard preparing and the joy they get from setting a goal and accomplishing the goal is something they will never forget," he said.
For Mr. Maney, volunteering at the meet was especially personal, seeing as him and his wife have family members who are special needs.
"We are very passionate about supporting any way we can," he said.
According to Mrs. Davis, the Special Olympics Geri Ryan Track Event is something that the life skills program at Bellefonte plans to continue participating in at the 28th annual event the following year and for many years to come.
"We have always had a wonderful experience in regards to Special Olympics Geri Ryan Track Event. The students look forward to this event every year and we really enjoy training for it. This is the one opportunity, for some students, to compete against their peers," she said.