Striking out their challenges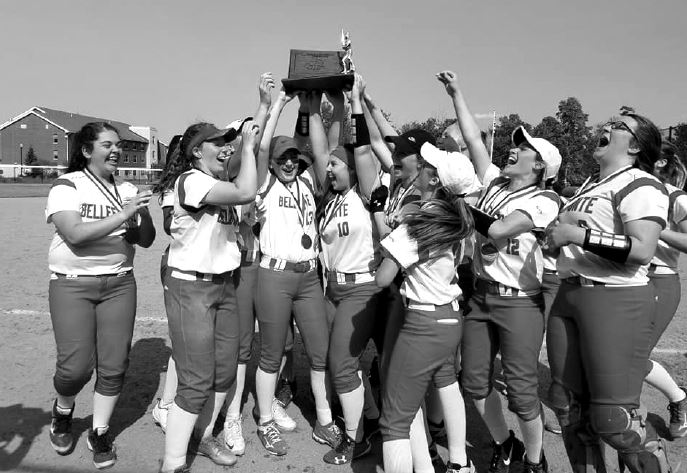 By LILY WICHERT
The Bellefonte girls' softball team saw their season come to an end after a painful 9-4 loss against Mount Pleasant in the first round of the PIAA Softball Championships on June 3.
Regardless of their loss, the Lady Raiders have plenty to be proud of from this year's season and effort they put forward, finishing with a 10-9 record.
The Lady Raiders will be saying goodbye to three senior players this year, including Emma DeHaas, Lissi Przybys, and Emily Pugh.
"This season has definitely been a unique one for many reasons," Lissi said. "We faced a lot of injuries anywhere from three games to the entire season."
This proved to be a great challenge throughout the season for the Lady Raiders, as they lost a variety of crucial players. Due to injuries, the team lost their first string pitcher, first and second string catcher, and the first baseman at some point throughout the season. Regardless of these obstacles, the girls battled to improve.
"We finished with a with a winning record which was hard earned after a rocky start to the beginning of the season," Lissi said. "I am proud that after the many hardships, we made whatever adjustments that were needed and never gave up."
Sophomore Maddie Tice was out for 15 weeks of the season due to injuries. Maddie is the first string catcher, and was put into the last game after finally being cleared to play.
"I have been super anxious to play," Maddie said. After being out for the majority of the season, Maddie describes that she "was not very nervous," but rather anticipated getting back onto the field.
With so many injuries came the challenge of filling in positions on the field, something the girls were quick to come together on.
"A lot of players had to take on new roles and step up," Maddie said. "Everyone did great at doing their part. I think throughout the season, we all grew a lot."
Junior Mallorie Smith is also proud of how the team stepped up this season.
"To have the versatile players that we have is very rare and we are really lucky to have that," Mallorie said. "We are a pretty loose squad. We love having fun and we make the most of all situations. If we aren't having fun, people should be worried because that's unusual for us."
Throughout the season, the girls came together and created strong bonds within the team.
Even with all of the challenges that were pitched to the Lady Raiders this season, the girls were able to overcome and finish the season with a winning record. Regardless of their loss, the team is proud of the fact that they were able to finish the season at the PIAA Softball Championships game.