One season down, many more to go
Lacrosse teams finish the season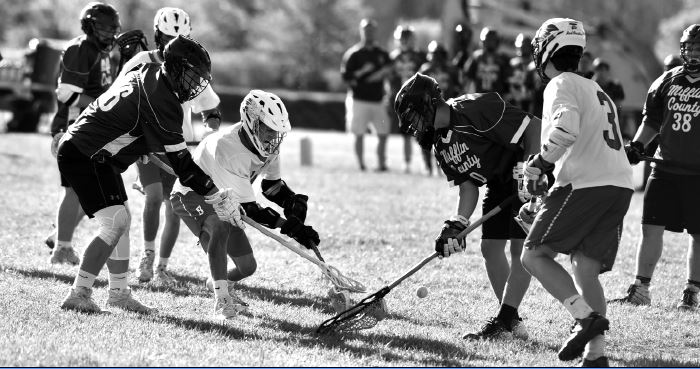 By ANDREW HOWE & MELINA WEAVER
The Bellefonte Lacrosse teams both finished their first season as a PIAA approved sport, competing at a high level throughout the season. The boys team is led by seniors Rees Kelly, Bailey Decker, and Tanner Sell who have been a part of the program for most of their high school career. They are coached by Rick Johnson as well. The girls are coached by Doug McKee, and have been drastically increasing their skills.
For the boys' lacrosse seniors, this is the best season they have ever had, it is possibly the best for the program as well. They made the conference playoffs for the very first time as a program with a record of 5-9.
Their record does not show how competitive they were during the season. Every team that they would play struggled against them and they knew that they could not expect an easy victory.
"The team struggled at times this season, falling just short in a few winnable games, but closed the gap between several of the conferences best teams and proved they could contend with those teams when they played their best," Coach Johnson said.
Meanwhile, the girls have been working hard, according to Coach McKee. The girls have improved immensely over this past year, according to their coach, Mr. McKee. They have improved in their stick skills, and their overall enjoyment and passion for the sport.
Even though the team did not do very well at the beginning of the season, they still remain extremely optimistic and practice harder and harder each day. Their goal is to compete with higher level teams in the district, and increase in skills more than they have already been. They have not been faring well against top tier competitions, but they still have achieved winning half of their games, which is extremely good, especially considering that they are the youngest lady lax team in the district. This year, they plan to improve their lacrosse fitness and conditioning themselves to play throughout each game.
Practices for the girls were "very productive, and fun," according to Coach McKee. The games remain more focused and professional, but the bus rides to and from games are always fun. The girls are often nervous on the way to the games, but that changes into intensity as soon as they are on the field.
As for Doug, he states that "it has been a very humbling experience" for him, and has made him an overall better person. He has enjoyed seeing how positive the girls have been, whether they win or lose. They always "have fun, play hard, and look forward to the next game or practice."
He enjoys rides home with the girls after a game, as they are always full of laughter and jokes.The girls finished with a 500 record.
Despite an overall 6-6 record, the girls and their coach plan to remain as positive as ever, looking forward with bright eyes to the next game, and practicing harder than ever, and continuing to laugh and joke through it all.
As for the boys, the new training program has helped them throughout the season by eliminating injuries and increasing conditioning. The program is hopeful that, due to the sport being recognized as a school sport, more students will come out and join the team.
"More players means that we all get more breaks in this highly active game and we will be better off and rested which will give us a better team in general. Even though we are performing at a high level this season injuries have not been good to us so the extra numbers would be helpful," senior Rees Kelly said.
The boys' lacrosse team has made great improvements over the past few seasons and they should continue to improve. This season was a huge stepping stone for the entire lacrosse program and it can continue to grow and get support from the school and community.