Taylor Swift Sets Records with New Album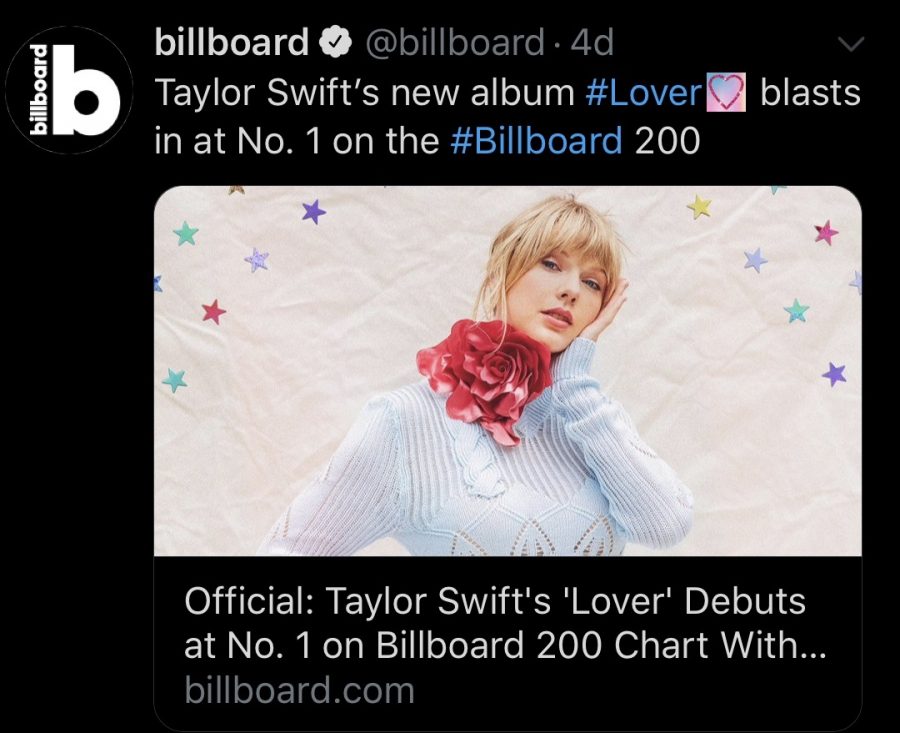 By JENNA ETTER
The singer/songwriter Taylor Swift has released yet another album that has topped many Billboard charts and continues to set records within the music industry. Dropped on August 23, Lover was her most recent album since reputation, which was released almost two years ago.
According to Billboard, Lover earned the biggest week for any album since Swift's own reputation back in 2017. Lover reached this goal by its second day out on  August 24. First-week sales were also increased by the four deluxe versions sold exclusively on Swift's website and online and in-stores at Target. Merchandise bundles were also made to help boost album sales. According to Vulture, after about a day of being released, Lover topped Lady Gaga's, A Star Is Born. Lover sold about 500,000 units while A Star Is Born sold 444,000 units.
Swift had released 4 songs off of the album before the release date. Leading single, "ME! featuring Brendon Urie from Pan!c at the Disco," was released on April 26, 2019. About 5 months before the album release date. According to Time Magazine, the later released music video for "ME!" contained many clues for fans relating to the album. The well-known line "Spelling is fun" from the song, was an easter egg for fans. If the letters of each word were added up you would get 8/23 which was the release date of Lover. The album version of the song doesn't include these lyrics. The word lover is also heard and written on different buildings within the music video. Swift's second lead single, "You Need to Calm Down," came out June 14, 2019. The song was released to help support Swift's equality act which gained notice from the White House, according to Fox News. Later, "The Archer" and "Lover," the title track, was released. "The Archer" is track 5 of the album which Swift has said in the past is always her slower songs on each of her past albums. "Lover" is Swift's current radio single, according to Billboard. "Lover" was made into a music video and released August 16, 2019. The music video, as of September 10, has racked up over 47 million views on YouTube since its release 2 weeks ago.
Each of the 18 tracks on the album have charted on Billboard's Hot 100. These songs have broken the record for the most simultaneous entries on the chart among women, according to Billboard. The spot was previously held by Billie Eilish. According to CNN, Lover is Swift's sixth album to reach number 1 on the Billboard Top 200. She has become the first female to have all of her six albums with this accomplishment. She has also charted in the UK becoming the only female with four UK number 1 albums in a decade. These four albums include, Red, 1989, reputation, and Lover.
About 2 months before the release of her new album, Swift found out that her past record label, Big Machine Records, was sold. She took to Tumblr to write a letter to fans and co-workers about the situation. "For years I asked, pleaded, for a chance to own my work. Instead I was given an opportunity to earn one album back at a time, one for every new one I turned in," Swift wrote in her letter. Big Machine Records, previously owned by Scott Brochetta, had been sold to Scooter Braun. Both Braun and Swift have had unpleasant relations in the past, according to Rolling Stone. Due to this, Swift currently has no ownership over her masters, which is what makes Lover unique. After her contract with Big Machine Records ended this past November, Swift signed with Republic Records which has given her the opportunity to own all of her work, including her masters. As of now, Lover is the only album the singer fully owns, but based on recent interviews, she plans on rerecording her past albums in November 2020.