Spiking their way into the end of the season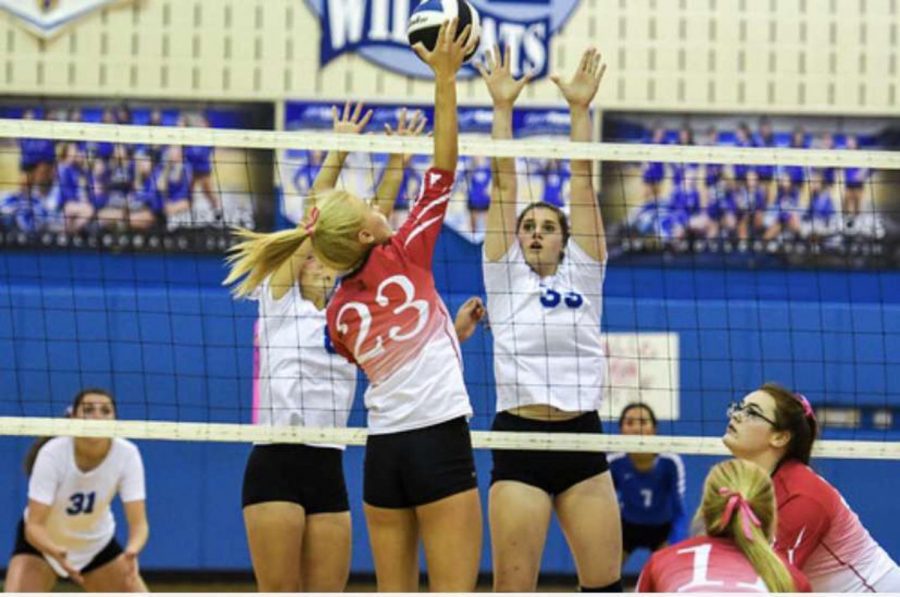 By ALLISON IVICIC
With more than half the season under their belts, the varsity Lady Raider volleyball team finished their season with a record of 3-11. This young team of 3 seniors, 5 juniors, 16 sophomores, and 8 freshmen were able to spike their way through three wins. Those wins include two over Clearfield and one over Central Mountain. This young team is coached by Head Coach Teri Kerr and Assistant Coach Ashley Hamilton.
The team had goals to improve their skills and trust between their teammates. Coach Kerr wanted her team to end the season knowing that they played their best and enjoyed the game. In comparison to last year, Coach Kerr saw improvements in her girls' skills and knowledge of the game – plus trust that is built between the team.
Senior setter Phoebe Rowland is also looking to keep the trust alive between her teammates.
"By the end of the season, I'm striving to be a better team leader that people can depend on to keep the momentum and energy level while still having a positive attitude and keeping everyone focused," Phoebe said.
Junior outside and middle Alexia Mishock also wants to have great trust within her team. She was able to this with her team during the Homecoming Parade.
Junior middle Makenna Port thought the same about the parade.
"It was a great time bonding with my team, singing to music, and throwing candy was a blast," Makenna said.
With such a young team, the upperclassmen show respect and positivity towards their younger teammates. They welcomed them with open arms and gave advice when needed. Freshman middle Maddie Melius says that joining the volleyball team lead her to new friendships that encourage her to do better.
"With the support you get from the older players it helps you gain the confidence to go out and play hard," Maddie said.
Not only does volleyball build friendships and trust, it creates an environment where teammates can have fun. The atmosphere during home matches gives the players the high energy to work for the win. Makenna enjoys having a large fan base.
"I love playing home games because the atmosphere with Raider Nation and Bellefonte fans is awesome," she said.
The game also gives Alexia a thrill and that is why she continues to put her heart out on the court.
Maddie also enjoys this feeling especially when it creates a good vibe for the team.
"One thing I enjoy about volleyball is the thrill, when someone on my team or I get a really good kill the whole team will just feel the energy of that kill," she said.
The team finished their season with an away game against the Huntingdon Bearcats on October 22.