Girls soccer working towards goals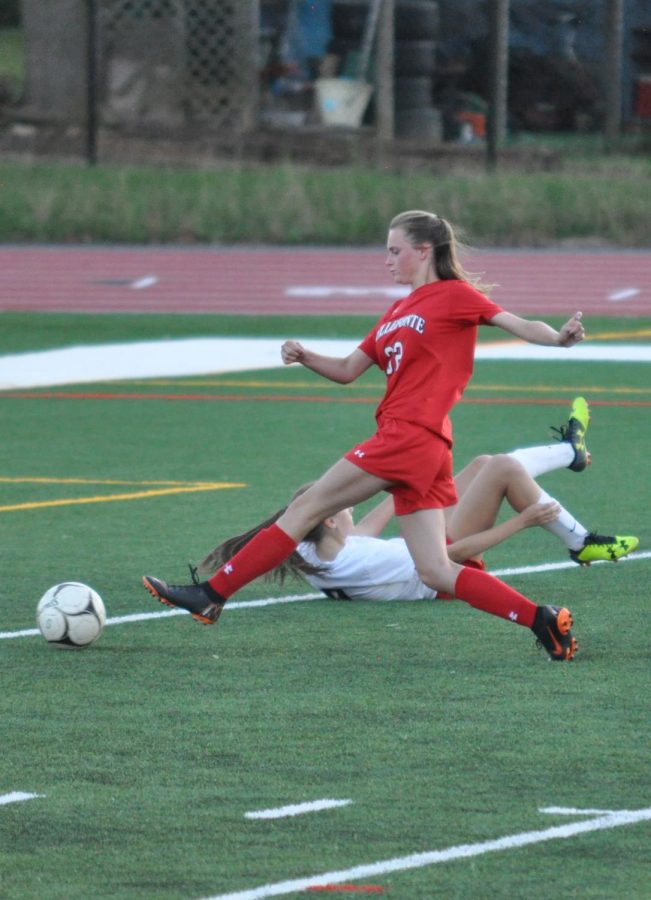 By KIRA WATSON
The Bellefonte girls' soccer team has been striving to become stronger and to rebuild their program in order to create the best season they can.
Girls' soccer finished the season with a record of 6-11. The team lost multiple seniors from last year including Cati Besch, Maddie Polkinghorn, Carolyn Seibel, Leah Simmon, and Harley Stahlman. While the loss of many talented seniors was a setback, it also presented an opportunity for the team to focus their efforts on creating new bonds and growing stronger together. 
"Losing would definitely be a setback for our team but this second half of the season we are looking to overcome our losses and become a different team," junior Mia Johnson said. "We haven't been getting the results we wanted, but we're having fun and getting better every day."
One main goal for them was to have an enjoyable time and grow closer, which they have achieved while making memories. Even through the hardships and losses that come with every sport, the girls continued to work hard as a team.
"We may make one mistake as a team and that leads to the opposition winning and that happens in soccer. We stay positive and move forward to the next game," senior Mallorie Smith said.
Even on the trying days, making memories and growing closer together has been most prevalent in making their season an important one. 
"As a team we have grown to be best friends who will be there for each other during the ups and downs," Mallorie said.
This season may not have been exactly what they imagined, with the loss of great seniors last year and other setbacks that occurred, leading them to just 6 wins. However, that isn't always what matters. There have been many points in the 2019 season that have made it unforgettable. 
"Some highlights of this season so far have been watching Mallorie score her 100th goal and our exciting win at Tyrone in overtime, when Mackenzie Hubbs scored the game winning goal," freshman Allie Berkey said. 
The girls took on Hollidaysburg on October 28 at St. Francis University for districts. Even amidst the 5-3 loss, they fought hard, winning the second half of the game.