Happiness Begins in Happy Valley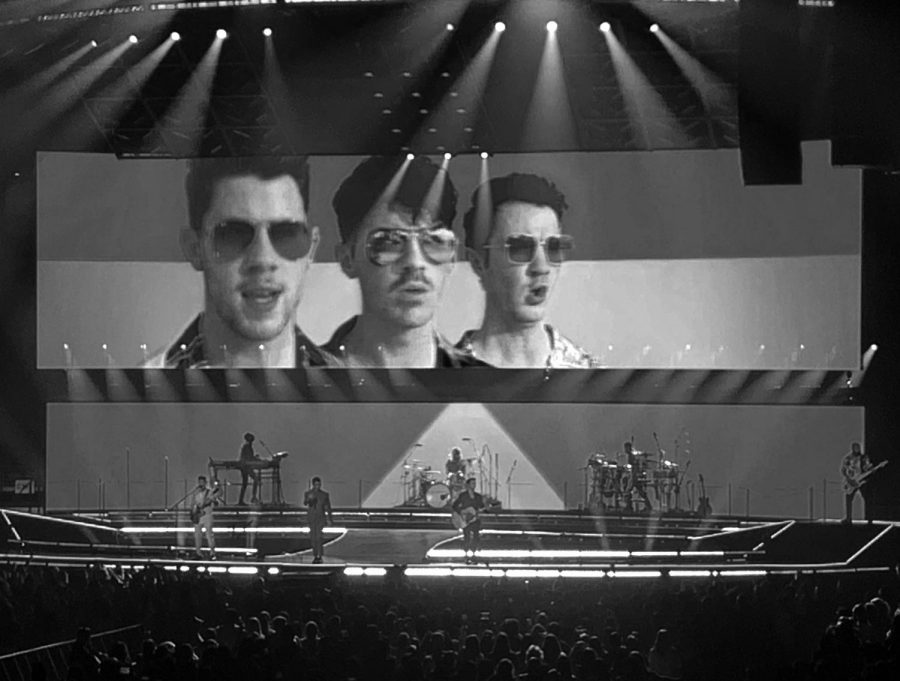 By ALLISON IVICIC
The Jonas Brothers made a comeback since their last album debut in 2009. On June 7, 2019, the album Happiness Begins came out with a total of 14 songs. This album was then followed by a tour that started on August 7 and will end on February 22, 2020. Within the tour, the Jonas Brothers made stops in both Hershey and State College, Pennsylvania. 
The concert in Hershey, held at the outdoor Hershey Park Stadium, brought in 35,000 people. This was the Jonas Brothers' largest audience of the tour. 
Sophomore Kaley Fisher enjoyed their performance at Hershey. The Brothers played a wide range of their songs. 
"̈The atmosphere at the Jonas Brothers was awesome. Everyone was brought together to sing old and new songs," Kaley said.
Her favorite song from the concert was "Play My Music." This song was first seen in the movie Camp Rock in 2008. She liked this song so much because the movie was always one of her favorites. 
During the concert they played the song "Burnin' Up," which includes a rap part executed by Robert "Big Rob" Feggans. This undoubtedly grabbed the audience's attention, especially Kaley's. 
"My favorite part was at the Hershey concert when they brought out Big Rob to rap "Burnin' Up."
Junior Megan Hamaty also loved when the Jonas Brothers played "Burnin' Up." The song took her back to when she was younger, when she first loved them. 
Just four days later, the Jonas Brothers came to the Bryce Jordan Center. They gave a concert that filled the BJC with lots of smiles. 
Senior Lexie Hosterman enjoyed the atmosphere the best. 
"A lot of concerts are iffy with the people and the way they act, but the Jonas Brothers wasn't like that. It was a lot of people enjoying their time, singing along, and screaming in excitement."
Many BAHS students would attend a concert of theirs again. Junior Camryn Shoffner loved that it was loud, energetic, and made her feel happy. It was an experience of a lifetime that she would do all over again.
Junior Sierra Witherite also thought the same. 
"The concert was very upbeat and fun," Sierra said.  
Their entrance for the performance was a great way to start it off. This was freshman Allie Berkey's favorite part. 
"When they all came out, it was just a dream come true," Allie said. 
The Jonas Brother did not forget to mention their love for Penn State. They made sure to lead the chant "We Are." This made for an even better atmosphere. 
"The way they perform and their love for Penn State made it the best concert I have ever been to…worth every penny," junior Bella Corman said. 
Without a doubt, the Jonas Brothers brought back many childhood memories for those who attended the concert. As of press time, the Jonas Brothers finished their concert in Los Angeles, California and are headed to Monterrey, Mexico.