Painting for the holidays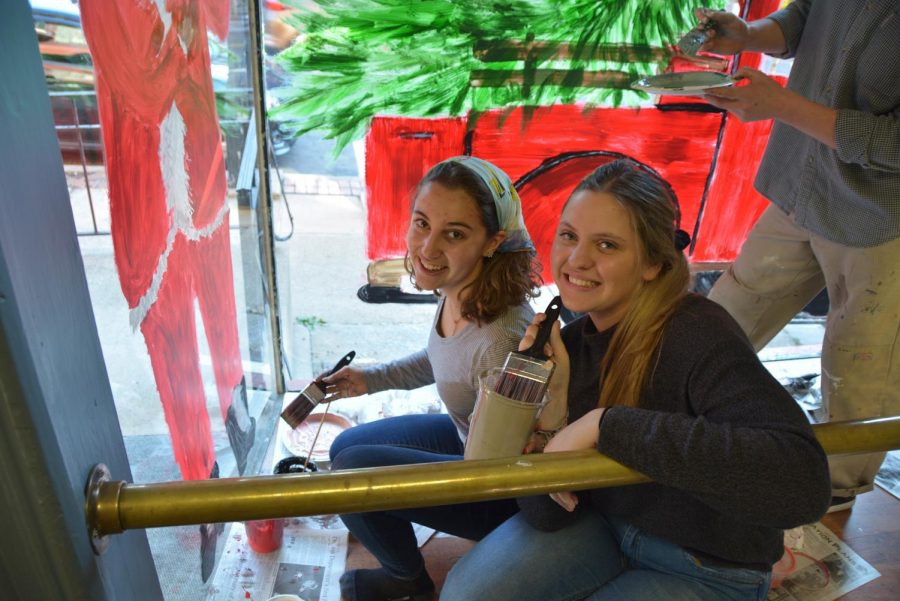 By JENNA ETTER
Art has been a part of any area's culture since the beginning of time. It is something that we see everyday in architecture, nature, and even entertainment. Art comes in many specific forms, like painting, which is what Senior Institute members and art students took on for the upcoming holiday season. 
On Tuesday, November 26, art teachers Miss Heather Fry and Mrs. Erin Welsh along with English teacher Mrs. Jessica Lloyd took about 47 of their students to downtown Bellefonte to paint windows for the community. Window painting at Bellefonte High School has been a longstanding tradition that started about 14 years ago.
"Window painting is a fun way to reach out to the community and spread some holiday cheer throughout Bellefonte by painting windows of different businesses across town," Senior Institute member Anna Goodrow said.
Window painting gives students a chance to get out of school for the day to do something fun while also contributing to the community. 
"I think it is important to go around and window paint because it gets everyone in the Christmas spirit and allows us to leave our mark on the town, even if it's just for the holidays," Anna said.
Students are first placed into pairs or groups and must plan their window design for their assigned business. Some businesses included the Bellefonte Wok, State Farm, and Classy Kuts. Senior Institute member Phoebe Rowland was assigned to paint windows for The Bellefonte Wok along with seniors Annalee Caprio, Mackenzie Ebeling, and Chelsea Robson. 
"We weren't assigned to do anything in specific, but we wanted to encompass the Chinese culture into our painting," Phoebe said. "We painted holiday and Christmas associated symbols along with the phrases 'Happy Holidays' and 'Merry Christmas' in both English and Chinese symbols."
While window painting is a fun activity, it also involves students getting more involved in our community and allows students to meet business owners and speak to other people living in Bellefonte. 
"If I had another year to do it, I definitely would. I'm sad that this was my last year," Phoebe said.
Senior Institute Class member Selah Brown also had a good experience window painting. 
"I liked it. It was my first time so I didn't have any expectations, but it was fun to paint all day and talk to the people in State Farm while we did it," she said. "I think the importance of going around and window painting is the Christmas cheer we bring into the community and painting pictures for everyone in downtown Bellefonte to see every day."