Layering up for winter weather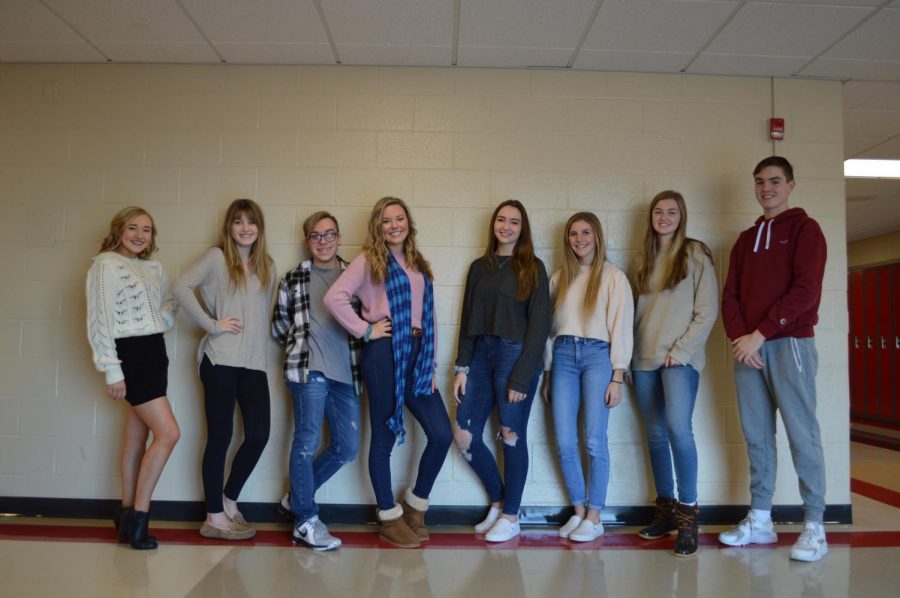 By JENNA ETTER
Winter and holiday events are coming up fast. This means parties and gatherings between friends and family, which is the perfect time to find a new outfit. Winter is a time of snow, ice, and dropping temperatures. Keeping warm in the cold is something everyone does by changing their styles and adding new pieces to outfits.
While fall fashion and winter fashion seem to stay fairly similar, there are a couple drastic changes that come into play. Jackets, boots, and many accessories update people's closets. Hats, gloves, scarves, even earmuffs make appearances in the winter. 
Women's fashion is always changing. Winter is a way that women can accessorize more and spice up their clothing. Sweaters, jeans, or leggings are the typical go-to. Cardigans, flannels, and oversized clothing tends to be worn more during the winter months. Jackets are also broken out for the colder weather. Sherpa jackets have been around for a while, but have recently become a bigger trend between girls. Shoes switch up from sandals to sneakers or winter boots. Ugg boots have been a winter statement for years. Bearpaw is also a well-known brand that carries boots similar to Ugg. 
Winter causes a huge impact on accessories for women's fashion. Hats like beanies or fleece headbands are worn. Ear muffs are also a warm winter accessory, but they do not seem to be as commonly worn compared to past years of winter fashion. Gloves and mittens always make a comeback for colder temperatures. Scarves are also a key pick for some women in the winter months. Scarves not only help someone keep warm, they also add to an entire outfit making it more dressy than it may actually be.
Men's winter fashion tends to stay similar to their fall fashion. Sweatshirts, jeans, or sweatpants are popular choices. Long sleeve shirts, flannels, and crewneck sweatshirts are usually worn in the winter. Joggers are a way to stay comfortable and are currently considered to be in style. Just like women, jackets, gloves, and hats are commonly worn between guys. Sweatshirts or light coats tend to be chosen more often compared to full winter jackets. Hats, like beanies, are also options that some guys wear. Gloves are not seen too much, but they are sometimes added to an outfit. During the winter months, work gloves seem to be more common compared to fashion forward gloves. Guys may choose to wear scarves to keep warm and accessorize. Similar to women, winter boots start making an appearance. Sneakers are still often worn, however, work boots or higher-end boots like Timberland, are well-known choices.
Along with casual winter fashion, Christmas and New Years are opportunities for both men and women to dress up. While to some, Christmas may be a day to stay in pajamas, drink hot chocolate, and watch Christmas movies, others may throw parties or have family gatherings that give everyone a chance to wear anything red and green. New Years is also a time for celebration which is a more popular time for parties. Glitter and sparkles are great for standing out at a party. A nice tux or a dress shirt with a tie may be an option for some. 
Overall,  winter is a time to dress warm while adding pieces to outfits you may never wear. Styles differ between each and every person so sticking to what makes you feel comfortable and confident in freezing temperatures is important. However, step out of your fashion comfort zone once in a while. You may be pleasantly surprised with the things you find to add to your closet that you never thought you would've liked.