Holiday spirit spread at Bellefonte Victorian Christmas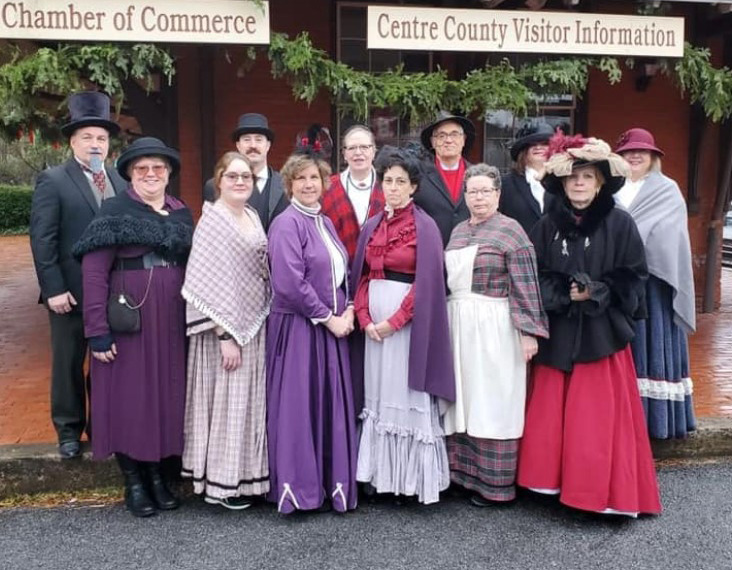 By ANNELISE KING
During the month of December, the streets of downtown Bellefonte are covered in festive decorations. People walk the streets, all bundled in their winter coats, hoping to experience some holiday fun. 
This year on December 13-14, the 38th annual Victorian Christmas offered activities including a community choir concert, horse-drawn carriage rides, arts and crafts, visiting Santa's house, the Festival of Trees at CPI, and much more. 
A defining characteristic of this celebration are the strolling characters. Actors and actresses walk around the streets dressed like they're straight out of a Charles Dickens novel.  Ebenezer Scrooge, Bob & Mrs. Cratchit, and the Fezziwigs interact with attendees by singing songs, hosting a dinner event, or simply by saying "Merry Christmas!" 
 Mr. Michael Fedisson, Principal of Bellefonte Area High School, participates in Victorian Christmas as well. 
 "I help the Bellefonte Women's Club that hosts a tour known as History on Wheels.  Patrons purchase a ticket for a bus tour around Bellefonte. The bus stops at certain historical locations where characters get on the bus and give a short speech about our history.  I play James R. Hughes, Headmaster of the Bellefonte Academy," he said. 
He went on to explain his motivations for playing the role. 
 "I really enjoy learning the history of our town and learning about all the quirks of some of its citizens.  Working with other members of the community such as Mayor Tom Wilson and Representative Kerry Benninghoff help open doors of partnership with our school to provide opportunities to our students.  For example, Mr. David Dimmick participates with History on Wheels. Mr. Dimmick also helps with the Bellefonte Food Bank. From our partnership, BAHS has been able to give back to the community by sponsoring a food drive this fall and helping to pack Christmas boxes for those that access the food bank," he said. 
Another participant of Victorian Christmas was BAHS junior Megan Hamaty. She performed in the opening ceremony. 
"It was really fun and the audience was very involved. I liked when they sang 'A Christmas Carol' and everyone sang together. Overall it's a really great and fun experience," she said. 
The decorated streets, shopping, entertainment, and sense of tradition have kept both children and adults coming to Bellefonte Victorian Christmas for 38 years, and it seems that it will be that way for many more years to come.