Sno' DJ? Sno' problem!
Bellefonte's annual Snoball dance survives amidst last minute changes
By ALEXANDER DOEBLER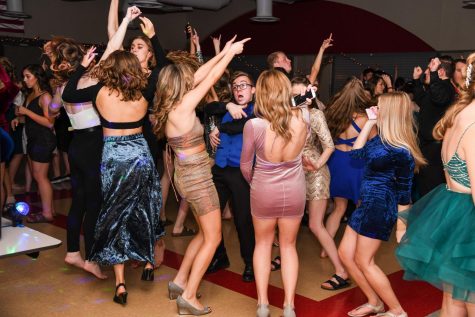 Oh, the weather outside is frightful, but the dance is so delightful, and since we have some place to go, let it snow, let it snow, let it Snoball.
On Saturday, December 7, the Bellefonte Indoor Dance Team, Indoor Drumline, Color Guard, and the Majorettes hosted another Snoball. However, there was panic the day before as people realized that they had no DJ for the dance. Even while away at Con Con, there were people trying to fix it. They managed to sort out the issues quickly and find somebody to handle the music. With a massive amount of song requests, they mostly just had to figure out the transitions, since it was clear that they were too late to try rearranging the songs themselves. 
"There were some issues out of my control, but I am proud of us being able to put something together and make the dance happen," senior Abby Harper said.
With classic songs like "Can't Help Falling in Love" and "All I Want for Christmas is You," there were a decent number of songs that provided the couples there with the romantic moments they go to dances for. There were a number of fast-paced songs that the single people could enjoy, too. Regardless of their music preferences, the "Cupid Shuffle" is a part of every dance that almost every person joins in on. 
The variety of music was one of the major parts that people enjoyed and took notice of.
"There was a diverse playlist," senior Nate Long said.
Some people complained about the fact they were unable to request songs at the dance despite the fact a form was sent out for everyone's song requests over a week prior. 
"We couldn't request songs. We asked them to play some songs but the DJ said they aren't taking requests, but are playing a Spotify playlist," senior Delilah Ledesma said.
The timing of Snoball also plays to its strengths. There are a lot of popular Christmas songs, and they can only really be played at a dance close to the holiday season like this. 
"Snoball is always one of my favorite dances because it gets me very excited for the holiday season," Abby said.
Along with the music are technical issues, like access to drinking water, which Delilah had noted as an issue in previous years. 
"I'm glad they actually had water this time," she said.