Annual Science Night at BAHS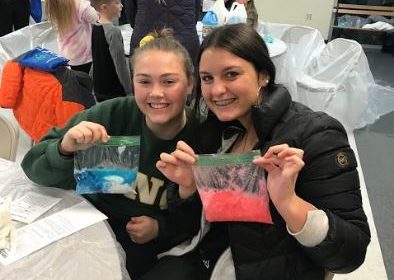 By LILLY GUENTHER
From sea to space, science and discovery is all around us. Once a year, Bellefonte High teams with divisions of Penn State to bring the community a night of fun and learning through Exploration U Family Science Night. Roughly 300 people attended the annual event, which included various demonstrations, hands-on activities, and a newly-introduced panel of speakers.
Through the years, the program has evolved in many ways. Originally focused on younger students through hands-on displays, there are now benefits for a range of ages.
 One such improvment is a peer panel of recent graduates and current students, providing not only advice and perspective from their studies themselves to college experiences, but an example, that students from any area can have ongoing educational oppurtunities.
Sophmore Megan Marsh attended this panel, and provides a student perspective on efforts to appeal to older students. 
"I thought the panel was very helpful because as students, we take advice better from other people who have been in our places…As students, if we want to learn and be successful, we have to take charge and put forth the effort and it was good to hear from people who have been in our place that it does pay off," she said.
 Physics teacher Mr. Kevin Harman organizes and facilitates the event on a community level, coordinating with the district, students, and other teachers. He explains the importance of programs such as this from a staff viewpoint.
"What we see is a lot of students getting inspired and excited." It is critical to personal and communal growth to create enthusiasm and establish goals in not only scientific study, but on an extensive scale," Mr. Harman said.