One last match on the home mat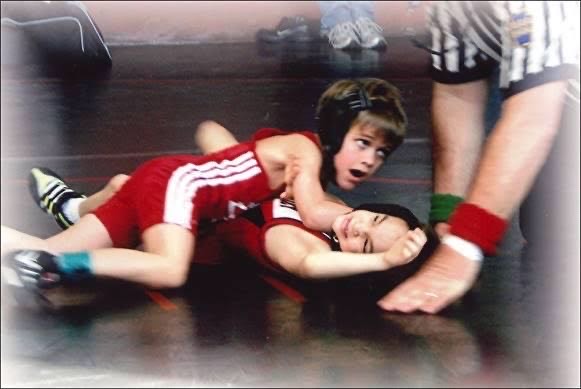 By ALLISON IVICIC
As the season is dwindling down, the varsity wrestling team has come upon their Senior Night. The team's six seniors include: Tyler Benner, Alec Bossert, Alex Coppolo, Aaron Little, Brady Martin, and John Nastase. Most of these boys have been wrestling since they were in elementary school. 
Alex has wrestled since he was six. During his time on the varsity squad he has been one of the captains, for the past three years. He has many cherishable moments along the way that are memorable.
"Having the opportunity to travel and meet a lot of people in the wrestling community," he said. 
Along with teammate Alex, senior Tyler Benner made long lasting friendships from the program along with support. 
"I feel grateful for the Bellefonte wrestling family and their support throughout my high-school career," Tyler said. 
Social Studies teacher and Head Coach Mr. Michael Maney can see the impact that each individual senior makes. 
"This group of seniors is unique because they all have different levels of experience but they all play an important part of the team,"  he said. 
The team took on the Central Dragons on Senior Night for a 66-9 win on Wednesday January 22. To help with this win senior Aaron Little helped by pinning the Dragons, Tyler Beisinger. 
"Winning on Senior Night was one of the most awesome feelings ever," Aaron said. 
Senior Brady Martin also picked up a win on Senior Night.
"I was happy that I won, but there definitely was a bit of sadness. It's hard to process that my wrestling career is almost over, but I'm happy for all the memories that I made, and all of the people I got to meet along the way, " Brady said. 
Through their time with the program the wrestlers have had help and inspiration along the way. Alex has had the support of his family that carried him to where he is today.
"My father and brother both have pushed me to my full potential to help me meet my goals," Alex said. 
Brady has been impacted by his coaches to see his full potential. 
"Coach Maney, and both of the Taylor's. They hold all of us to a standard, and they see potential in all of us that we don't even see in ourselves. They push us to be our best, and make us all tougher as a team," Brady said. 
The seniors have made an influence on the underclassmen on the team. Sophomore Aidan O'Shea can say that they were always leaders. 
"The seniors lead us in warmups and help motivate us as a team. If something bad happens they help me stay positive and not get negative," he said. 
Mr. Maney has been with these wrestlers to see the growth that they have had. 
"They have put in a lot of work and at this point of the season have achieved some great things, but I know even better things are in store for them," Mr. Maney said. 
 The Raiders defeated the Clearfield Bison on February 4 with a 46-16 victory. As of press time, the team will travel to Philipsburg-Osceola on February 6.