An evolutionary night in the music industry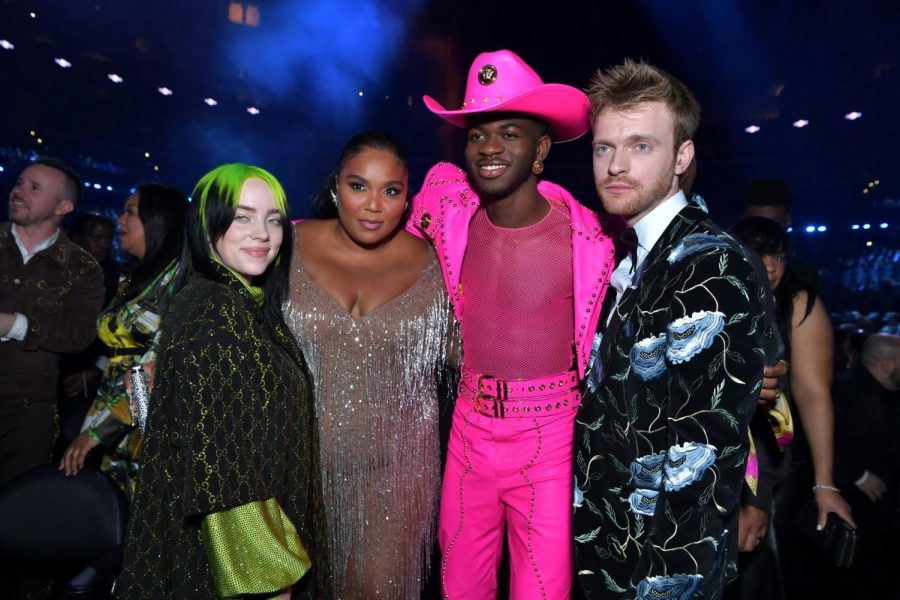 By TYLER MUSE
What started as a day of mourning at the Staples Center turned out to be an evolutionary night for the music industry. Alica Keys, who hosted the awards, started the 62nd annual Grammy Awards with a beautiful tribute to Kobe Bryant alongside Boys II Men performing, "It's So Hard to Say Goodbye to Yesterday." The award show took place Sunday, January 26, at the Staples Center in Los Angeles, CA.
Newcomer Billie Eillish stole the show winning all four of the major awards: Record of the Year, Album of the Year, Song of the Year, and Best New Artist. The last time in Grammy history someone took all four of the biggest award home was in 1981 by artist Christopher Cross. Billie also won the award for Best Pop Vocal Album, bringing her home five Grammys out of the six she was nominated for. 
Billie Eillish didn't have an easy win with these awards; she was up against some hard competition. For Song of the Year, we saw songs such as "Truth Hurts," by Lizzo, "Lover," by Taylor Swift, and "Always Remember Us This Way," by Lady Gaga from A Star is Born all as nominees, but Billie Eillish came out on top with, "Bad Guy." Album of the Year came as a shock to Billie, as her debut album, "When We All Fall Asleep, Where Do We Go," won over Lizzo's, "Cuz I Love You," Ariana Grande's, "Thank U Next," and Lana Del Ray's, "Norman F*****g Rockwell." The biggest award of the night, Record of the Year, was the biggest shock from Billie, leaving her with two simple words: "thank you." This category had all the hits, including Ariana Grande's, "7 Rings," Khalid's, "Talk", Lil Nas X and Billy Ray Cyrus's, "Old Town Road Remix," Lizzo's, "Truth Hurts," and Post Malone and Swae Lee's, "Sunflower," with "Bad Guy" coming out on top for the second time that night. 
The performances at this year's Grammys were truly ones to remember. Lizzo opened the show singing her title track, "Cuz I Love You," off her latest album before she whipped out the flute to transition her into smash hit, "Truth Hurts." The Jonas Brothers returned to the Grammy stage debuting an unreleased love ballot, "Five More Minutes," before transitioning to the main stage to perform their latest single, "What A Man Gotta Do." Camila Cabello brought the audience and everyone watching at home to tears during her performance of "First Man." The performance was dedicated to her dad who was sitting front row in the audience. The song is reassuring her father about the relationship she is in and that he doesn't need to worry about her. Ariana Grande then took the stage to perform a four song melody of, "Imagine," "My Favorite Thing," from The Sound of Music, "7 Rings," and "Thank U Next." The performance proved an end of an era for Ariana, starting with her vocals being showcased in "Imagine" and then transitioning to "My Favorite Thing" which is sampled in her hit, "7 Rings." Ariana remixed "7 Rings" before finishing with "Thank U Next," where she sat in bed placing her ring back in the box, showing the end of it all. 
Billie Eillish took the stage with her brother Finneas performing a piano ballot, "When The Party's Over." Lil Nas X then put on a show, performing almost every remix of his hit "Old Town Road," where he was joined on stage by Billy Ray Cyrus, BTS, Diplo, and Mason Ramsey. Lil Nas X finished his wild performance debuting a new remix of latest single, "Rodeo," where he was joined on stage with Nas. The most awaited performer of the night was Demi Lovato, where she made her return to the stage debuting a new song after her overdose in the summer of 2018. The new song, "Anyone," is an emotional ballot that is a cry for help. The performance was very emotional for Demi as it was the first time she was in the public eye after a year and a half. She started crying during the beginning of the song and had to restart, where she released her powerful voice into this raw and honest ballad.