Protests amidst a pandemic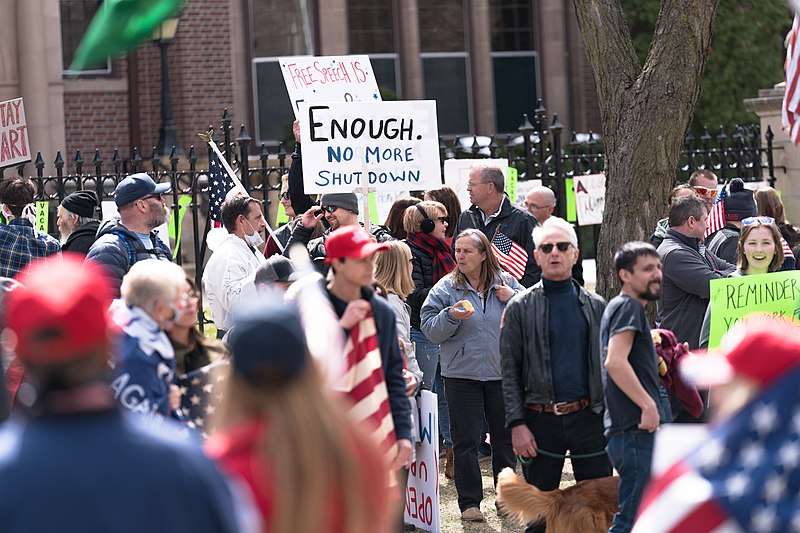 By ANNELISE KING
The coronavirus has caused our fast-paced world to come to a screeching halt. Many people are making the best out of their quarantine by picking up new hobbies, spending more time with their families, binge watching TV shows, or simply enjoying a break from everyday life and relaxing. 
Although most people are trying to look on the bright side, it is hard to deny that COVID-19 has caused massive amounts of damage; the economy is suffering because most nonessential businesses are closed. Schools are shut down and students are unable to finish the year. People who are self-quarantining are experiencing feelings of isolation or mental health issues. Anti-lock down protesters across America have been responding. 
On April 19, Trump defended activists by tweeting about Americans having, "their lives taken away from them," and, "that they've got cabin fever." Some say that his statements have fueled the protests. 
According to the New York Times, hundreds gathered at the Capitol in California a few weeks ago. Their purpose was to protest the stay-at-home orders. In response, California Highway Patrol banned all in-person protests at state facilities. These actions have been a source of conflict because the right to protest is constitutionally protected by the First Amendment. 
Axios reported on a similar protest that took place in Michigan on May 15. Their website shows an image of a large group of protesters holding signs that read things like, "A man who chooses to be a slave obeys," and, "Don't believe the liberal media." The protesters shown were not wearing masks or practicing social distancing. The website claims that, "The US cannot afford to stay on lockdown until a cure or vaccine arrives. Safely reopening communities and economies requires data that is currently difficult to find." 
Although many have struggled during this pandemic, the stay-at-home orders are helping to decrease the number of COVID cases. The CDC has directed people to stay 6-feet apart, avoid group gatherings, and to stay away from crowded places.