The royalty of Bellefonte High
As we go through these uncertain times, the Student Council was faced with a challenge to find a new way to crown this year's King and Queen. In normal times, a Homecoming court is made up of a couple of representatives from the freshman, sophomore, and junior classes, along with five couples from the Senior Class. These couples would usually ride in the Homecoming parade and then were recognized at a bonfire. Usually, the King and Queen are announced at the football game. However, to follow current CDC recommendations surrounding the Covid-19 pandemic, Student Council was unable to do the typical Homecoming traditions.
Instead, they had to overcome this factor and start from square one. The Student Council decided that the court still needed to be represented. Staying in the timeframe of Homecoming Week, Student Council picked October 17 to fairly represent the court. Co-Advisor of Student Council and science teacher Mrs. Heather Huntsinger wanted to make sure everyone was represented and give them a little sense of normalcy. 
"It was important to have an event that could bring something 'normal' to the school year, and especially important to have an event that is special for the seniors and Homecoming Court," Mrs. Hunstinger said. 
The underclassmen court consisted of the following representatives: Madi Berry and Owen Pettina who represented the Freshmen Class; Haley Roger and Nathan Fisher who represented the Sophomore Class; and Ava Seigworth and Nick Pacella who represented the Junior Class. The Senior Class had five representative couples, including: Connor Bernier and Morgan Goodman, Chris Paloskey and Kira Watson, Isaiah Nadolsky and Haley Cameron, David McAndrew and Alexia Mishock, and Nathan Taylor and Maddie Morelli. 
The 2019 Homecoming King and Queen Malorie Smith and Aaron Little returned to crown this year's Homecoming Royalty. The second runners up were Nathan Taylor and Maddie Morelli and the first runners up were Connor Bernier and Morgan Goodman. 
Connor and Morgan both decided to run last minute and are very happy that they did. 
"Morgan and I decided to run together because we thought it was our senior year so why not – and it would be fun. We were thrilled to place second but also bummed of not winning first, but I wouldn't change it for the world," Connor said.
They had an unforgettable experience and were pleased to place. 
"It was also super cool to have our own ceremony and I was super happy and surprised to see that we placed second," Morgan said. 
For representatives Nathan and Maddie there were so ecstatic to place. It's their senior year and this was a simple way to have fun and make light of the senior year they have been given so far. 
"Nathan and I really just wanted to have fun, especially not being able to have a normal senior year. We were so excited to get third, and doing it with your best friend is the best feeling," Maddie said.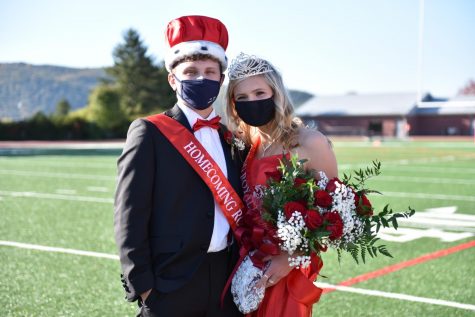 When the announcer, Mrs. Jessica Lloyd read of Maddie and Nathan's names, their reaction was priceless. 
"When me and Maddie placed we went crazy, the photos of us jumping what we heard are epic. Maddie and I went into it purely to have a good time and us getting second runner up just made it even better," Nathan said. 
  David and Alexia were crowned the 2020 Homecoming Royalty. This couple was in the same boat as the rest, they just ran because it was their senior year, so why not?
"I decided to run because I wanted to do something I never expected myself to do to give me something to remember my senior year, and I'm so glad that I did," Alexia said 
Although this was a fun time and very unique to the Senior Class, David was unsure on how he felt not able to have the crowd of Friday Night Lights there. 
"I also missed having it at halftime of a football game with a big crowds filled with close family and friends," David said. 
As the couples for first and second runner up were announced, David and Alexia were nervous, yet excited to see who would be crowned the royalty.
"I was nervous and also excited when the couples were being announced, once Alexia and myself were announced all of that nervousness went away and all that was left was excitement and disbelief," David said. 
This couple was very honored by the student body to represent our high school. It was an unexpected blessing. 
"I was very shocked. I was not expecting that we were going to win at all and I am incredibly grateful to everyone that votes for us. I feel very honored to be voted in this place to represent BAHS," Alexia said. 
Overall this event couldn't have been put all together without the tremendous help from the Student Council and everyone else that was working behind the scenes. 
"We had to reach out to a lot of school officials and staff to help us. I especially want to thank Ms. Moore and Mrs. Lloyd for going above and beyond," Co-Advisor Mrs. Jennifer Richardson said. 
This event will definitely be one to remember. Times of change can come with changes that work out well in the end.
"While there is nothing quite like Friday Night Lights at the Homecoming Football game, I enjoyed seeing the Homecoming Court all dressed up in their formal attire in the warm sunshine," Mrs. Huntsinger said.