Hollywood's unlikeliest checkmate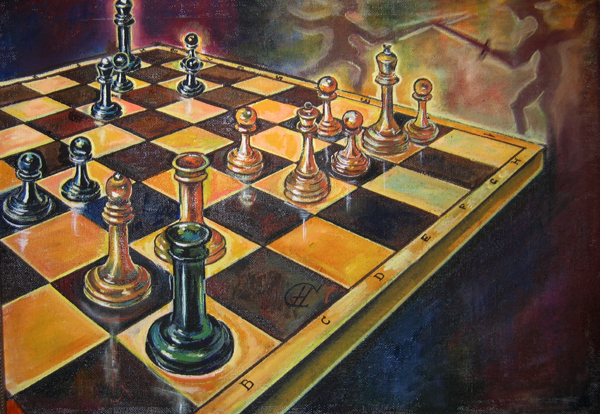 When the word "chess" comes to mind, you may not think of the word "thrilling" along with it. But in The Queen's Gambit, "thrilling" is the only word fit for the series. 
The show, which debuted on October 23, is based on the novel of the same name by Walter Tevis. According to Netflix, the series has topped the charts and remained in the top two slots on the streaming service since Gambit's release. On the movie and t.v review site Rotten Tomatoes, the Queen's Gambit holds an astonishing 99% critics score with a 96% audience rating. 
Chances are that watchers will delight in Beth Harmen's successes as they discover Scott Frank and co-creator Alan Frank's witty series. We meet Beth standing impossibly unharmed by the side of the car crash that leaves her mother dead. Her father is evidently not in the picture, and Beth is sent to a home for orphans. There, she learns she has an extraordinary knack for chess, along with an addiction to the green tranquilizer pills the orphanage feeds their children. When Beth finally leaves the orphanage, she leaves with a handful of the last thing in her suitcase, along with several chess books and a hunger for the game she fell in love with. This hunger is what drives her to the heights of the competitive chess world, and leaves her increasingly dependent on the sweet oblivion offered by alcohol and her pills.
Beth Harmen is played by the capable Anya Taylor-Joy, who breathes character into her role by providing a witty performance that leaves the audience riveted and hungering for more. Beth is a character full of personal contradictions: someone who is internal without being closed-off, vulnerable but strong, with a lack of vanity but full of intoxicating glamor. Taylor-Joy easily portrays these feelings and masterfully accomplishes the story's continuous struggle of Beth feeling desperately alone– even when surrounded by people. This feat becomes even more astounding when Joy is able to portray this personal solitude only present in an unobserved person while in front of a room of cameras and producers.
The show is further carried by its beautifully cast ensemble. The great Bill Camp acts as Beth's childhood chess mentor along with more unknown actors like Moses Ingram and Harry Melling, who both evolve to become close friends of Beth. The show is finished off with Marielle Heller, whose spectacular performance gives watchers the most precise portrayal of Beth's fragile, damaged, and compassionate adoptive mother. Every single actor on the show– even those in only one or two scenes– give fully inhabited executions that always let watchers know exactly who characters are on a personal level, something rarely accomplished in the world of entertainment.
Frank, Taylor-Joy, and company beautifully work together to provide a masterfully spun tale woven with compelling characters and riveting performances. Each scene adds on to the next, and the story of a young woman captured by the game of chess culminates perfectly with her fight for victory and personal peace. This series is sure to be a hit with all watchers, and will leave a mark of beauty on all who consume it.