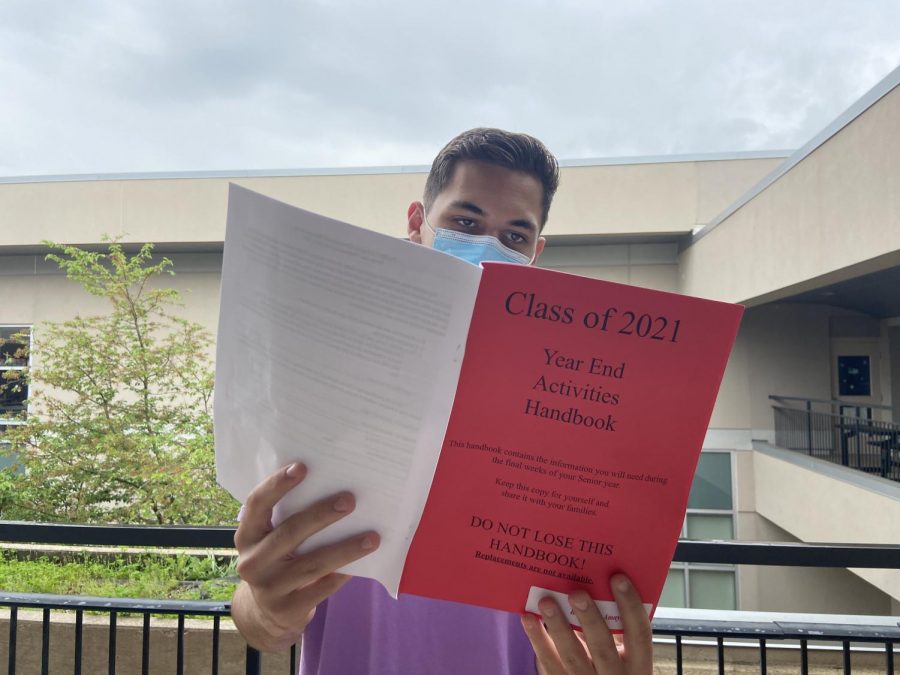 Photo Keri Carroll
By KERI CARROLL
With the end of the year getting closer and closer, seniors are presented with many opportunities and activities to spend time with their classmates before saying goodbye. Although the COVID-19 pandemic will make this year look a little different, the Senior Class is still hoping to be able to enjoy some of their senior events. 
Last Wednesday, seniors were handed out the infamous "Red Books," which outline the  information that students need for the last four weeks of school. It first starts with the Senior Trip, which is to Hershey Park. This trip is taking place April 30, and the students will get to spend all day in the park riding rides. This field trip was one of the only few options for a trip this year, since it needed to be COVID-19 friendly.
The week of May 3 will be preparing for finals, which leads right into finals week, taking place from May 10-14. Seniors must be present for only the period that their final is on that day, giving them breaks in between for lunch or to go home. The week after that, seniors have their final week of school, when they can choose whether to attend in-person, or remotely from home. 
The famous "All Night Party" takes place on May 21. The doors to the high school open that Friday night from 10-11 p.m.. This event offers fun activities meant for bonding and creating memories. Doors finally open back up at 6 a.m. 
Next, we move into the cap and gown distribution, located outside the library entrance on May 26. Students are expected to bring their Chromebooks and chargers and make sure they have all credits to graduate. They are also expected to have library materials, their financial obligations, and Senior Class dues paid, all before finally receiving their cap and gown.
The day after that, on May 27, students will then have senior announcements and the special Senior Walk. The Senior Walk allows students to head to both their elementary and middle schools for a nostalgic reunion with their elementary and middle school teachers. 
June 1 is the day of the Senior Breakfast, when students will have to report at 8:30 a.m. The Awards rehearsal will be the next morning, which will result in the Awards ceremony later that night. The Awards ceremony is when the students will be able to find out who won which scholarships. Students will be permitted to attend in-person, but parents and guardians will watch remotely.
After 13 long years of public school, the Class of 2021's adventure will finally come to an end on June 3. There will be a rehearsal that morning. Students who are doing the drive-through graduation will have theirs from 11 a.m. to 2 p.m. Later that evening, at 6 p.m. the rest of students will hold a traditional graduation in Rogers Stadium. 
The end of the year for seniors can be described as what some may call "hectic," but it will all be worth it in the end. The Class of 2021 has exciting things ahead of them.