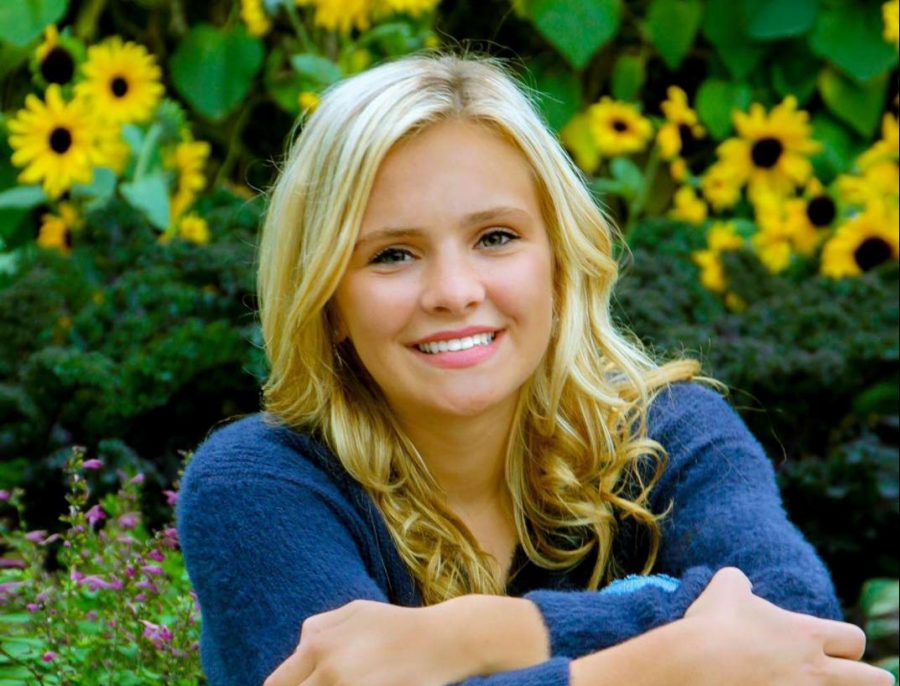 Submitted Photo
From the volleyball court, to the classroom, to an ambulance, senior Alexia Mishock is a well-rounded student at Bellefonte High who will do great things in her future. 
Throughout her varsity years, Alexia has played volleyball and lacrosse for the school, as well as playing club volleyball for Relentless and Central Penn Volleyball Club. Alexia was part of the team when they achieved the first-ever District Championship win in Bellefonte's history. 
"The feeling was indescribable. All of our hard work had finally paid off. This big of a moment of development for Bellefonte Area High School as well as the volleyball program was priceless and I was so grateful that I was able to be a part of it," Alexia said. 
Assistant volleyball coach and Spanish teacher Mrs. Victoria Smith has all good things to say about Alexia and what she brought to the volleyball team. 
"She always put her team first and did a great job at holding her teammates as well as herself accountable," Mrs. Smith said. "Her positive attitude and strong work ethic contributed to our team's success this season. She led by example and was a joy to coach."
Aside from her athletics, Alexia is very involved in clubs around school, being an active member in the Art Club, Future Business Leaders of America (FLBA), FFA, Key Club, National Honor Society (NHS), Prayer Club, Ski Club, and Spanish Honor Society (SHS). 
Mrs. Myken Poorman who is the Agricultural Sciences teacher at the high school is also the advisor of FFA. She has witnessed Alexia's drive to learn and become well-rounded in many different groups and clubs. 
"I have seen her grow by taking opportunities to build leadership skills and gain experience in many areas," Mrs. Poorman said. 
On top of that, Alexia does a lot of community service work. She is a lifeguard at the Bellefonte and State College YMCAs as well as at Kepler Pool. Plus, she will become EMT certified after completing an Emergency Medical Technician class through Centre LifeLink. 
Alexia has always had a passion for helping others, so there is no better fit for a job to match her passions. 
"I love the adrenaline with each call, I love the responsibility I am given with taking care of someone, and most of all I love knowing how I can make a positive impact on at least one person's life," Alexia said. 
Teachers like Mrs. Poorman have seen her dedication and willingness to aid others throughout her high school career.
"I am so excited to see where the future takes her. I know she will be successful because she is dedicated and passionate about what she does. She is so kind and always willing to help others," Mrs. Poorman said. 
  After she graduates, Alexia will attend Lock Haven University for their five-year Accelerated Physician Assistant Program. It was a tedious and hard process to get into the program. The program is by invitation only and applicants are screened by multiple factors to ensure they have the track record: high class rank, strength of curriculum, SAT scores, and GPA. In the fall, Alexia attended an in-person interview, and in December she was notified that she was admitted and accepted into the program. 
"When I was accepted into the Physician Assistant program I was very excited that all of my hard work in high school had paid off," she said. 
Fellow classmate and friend Jenna Wakefield will join Alexia in the five-year program at LHU. This extensive program accepted 30 out of 75 people that applied. This is a grueling process and Jenna is glad to have had Alexia by her side. 
"The interview was stressful but I'm glad we both made it. I'm excited to have someone to do the five-year program with," Jenna said. 
Over their high school years together, they have had many of the same classes and the same interests. Alexia is a genuine person to keep alongside of you through the course load of highschool. 
"She is a friend that you can really rely on and trust. And I think that is very good and hard to find quality in people," Jenna said. 
As Alexia sets off for the real world,  video production teacher Mrs. Carla Cipro will remember her for her "personality and the hardworking attitude." 
"I enjoy seeing her every day and will miss her when she graduates," Mrs. Cipro said.