Pleasant Gap welcomes new shop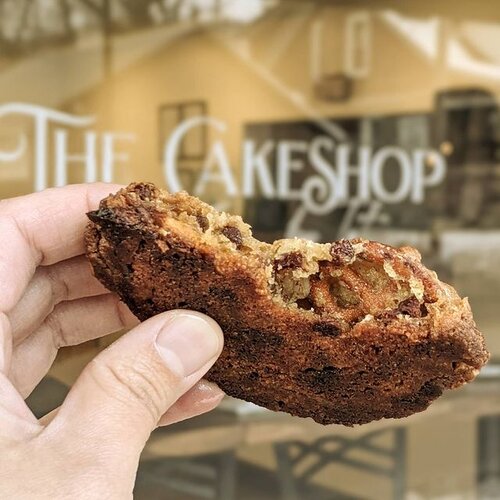 On February 16, a new Centre County business had its grand opening. The CakeShop by Tati, located at 113 East College Avenue in Pleasant Gap in the space formerly occupied by Taco Inc., sells a variety of, according to lockhaven.com, "sweets, treats, and beverages." The business has a cafe-style setup, with a sitting area in which to enjoy coffee, pastries, or other treats. There is also a case where all the shop's products can be viewed and chosen by customers.
The shop is owned by Tatiana and Derek Polay. Derek was born and raised in State College, and the couple met in New York while attending culinary school. They returned to Centre County in May of last year when the COVID-19 pandemic had a negative impact on many businesses in New York. Last year, Tatiana began to make cakes for family and friends, and her cake creations quickly gained popularity. The Polays saw an opportunity in Pleasant Gap when the Taco Inc. space opened and took it.
Bellefonte Area High School seniors Makenna Port and Shea Kelly both began working at the CakeShop a few months ago.
"I loved working there from the minute I started my first shift," Makenna said. "The customers are so sweet and supportive of the business. My other co-workers make the atmosphere so welcoming and enjoyable to work in," she said.
Though The CakeShop did not open at the most opportune of times, the couple says the business is doing well. The shop's location at the main intersection of Pleasant Gap, near Little Mama's Pizza and Red Horse Tavern, makes the area a popular destination in Pleasant Gap.
"In the short time it has been open, I think it's had a really positive impact on the community. We already have lots of regulars, but we see new faces every day. The community has responded really well to the opening. We sell out about every day. Despite the pandemic, the business has been doing wonderfully," Shea said.
The Polays say they frequently sell out of popular products such as their croissants, chocolate banana pudding, and Tatiana's classic Peruvian sugar cookies. Tatiana is Peruvian, and enjoys making some traditional pastries, but says she thinks "there is something for everyone at the CakeShop," according to lockhaven.com.
Shea and Makenna agreed. Makenna recommended the shop's croissants, which they are quickly becoming famous for in the area, and Shea said her favorites are the guava mousse and compost cookies, which are, according to the CakeShop menu, composed of a mix of potato chips, pretzels, butterscotch, chocolate chips, and secret ingredients.
To learn more about the CakeShop by Tati and it's menu, visit
thecakeshopbytati.com.