Marching Band takes to the field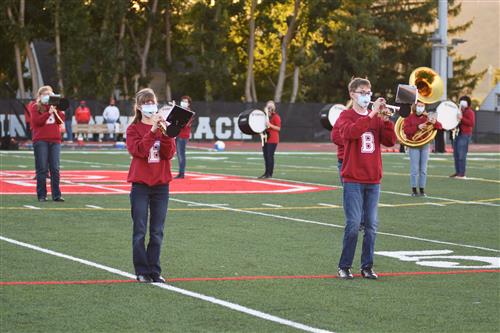 Booming into the stadium, the Bellefonte Marching Band is getting fired up for a brand new season under the lights. While the first game is not until August 27, there is still plenty of preparation that goes into getting ready for a performance.
Registration for the Marching Band is currently happening. Kicking the summer off is a mini band camp in early June. Continuing through the months of June and July, there are Tuesday rehearsals, and band camp starts in early August. Rehearsals continue up to the first game of the season on August 27.
While the previous season had been restricted due to the COVID-19 pandemic, this year there are plans to change it up while still keeping it safe. During practices and performances, they will still follow the guidelines set in place by the PA Department of Education, the PA Music Educators Association, and the National Association for Music Education. Students will be expected to wear masks at all times unless they are playing or practicing routines, and staff will be wearing masks at all times.
The Marching Band will be doing more movement across the field, and while it won't be a full show, there will be more movement.
"I'm also very excited to do more than last year. Even though we can't do much more, I'm still happy to be able to perform this year," junior Gabby Brezler said. "We have a great show planned. I think everyone is going to love it."
Excitement for the upcoming season has many people anticipating the return of the Marching Band, and their performance of "Gonna Take You There," featuring music and inspiration from New Orleans Jazz.
"I'm excited about some new music that we got, and this year's show is all themed around the music of the New Orleans/Dixieland style, which is a fun style of music to perform as well as listen to. The staff and I are very excited about it," Band Director Mr. Caleb Rebarchak, said.
While students are excited about the new opportunities and experiences they get to have this year, they are also ready to take on the challenge.
"Personally, I feel like this season is going to be more difficult, due to the fact we couldn't march last season due to covid, and I've never marched before," freshman Mackenzie Frazier said. "I'm excited about this season. Not only do I get the full Marching Band experience for the first time, I get to mentor some of the new students. Although we lost a lot of students because they were seniors, I believe we're going to be just fine."
Getting under the stadium lights will take plenty of time and preparation, but will leave the band ready for a brand new season and they will be ready to rock the stadium and leave the crowds cheering.