Lacrosse takes the lead
As the school year comes to a close, spring sports begin to wrap up. After an unusual season due to the COVID-19 pandemic, the Bellefonte Area High School lacrosse teams continued to play hard and have fun.
The boys' team had a rocky start this year, but they managed to get back in the game as the year continued. They continued to push forward and made improvements throughout the season. This year, the boy's lacrosse team beat Danville for the first time in the team's history.
Senior Devan Cox said that the team "turned things around and started to win" early in the season.
"At one point during the season, were had a record of 1-3, and we all came together to decide what we wanted out of the season," he said. "The biggest highlight is definitely beating Danville. I think beating them showed both our school and other schools that we aren't just some pushover team and we can compete with other large established teams."
While Devan is not planning on continuing to play after he graduates, he would love to coach or assist in the future.
Junior Reese Redman started playing lacrosse during his freshman year. He originally joined the team so he could have a spring sport to get in better shape for the football season, however, it turned into much more than that for him.
"Lacrosse has become more than an offseason exercise program for me. The sport has now become one of my favorite things to participate in," Reese said.
Junior Shea Chapman has been playing for seven years.
"I knew I wanted to play since I was six years old. I saw a game on tv one day and immediately fell in love with the sport. The next day I went out and bought a stick, and kept playing from then on."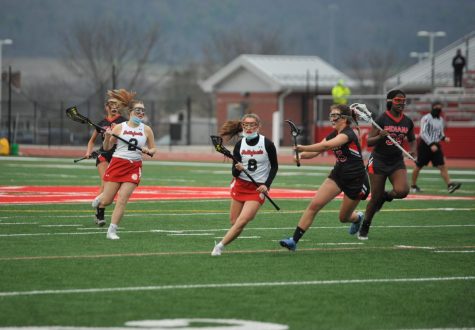 The girls' team also had some struggles relating to the COVID-19 pandemic, but they persevered and had one of their most successful seasons yet. The varsity team had a close score this year, with a tight 3-4 record. Molly McKee is a junior who has been playing lacrosse for eight years.
"I think the team's performance is decent. It has been a hard season with COVID, but we are trying our best to keep pushing and use every game as an opportunity. Every game that we have had is a gift."
Molly believes the team improved over the season, crediting the upperclassmen for "carrying the program due to their commitment and skill."
"Since they are graduating, it adds a little fire under the younger players and newcomers and I am excited to see how their futures go as far as meshing as a team when they become older," she said.
Senior Michaela Brungart has been playing on the girls' team for three years. She joined the team because she wanted to join a sport and she had friends on the team. As a whole, she thinks that the team did well this year and made a lot of improvements. Upon graduation, Michaela will take many memories with her.
"The bus rides were always the best, and I'm going to miss the people that I met," she said.
Even though the teams both had their challenges this year, each managed to pull through. As the season comes to a close, the teams hope to continue their improvement and to have an even better season next school year.