The Curtain Bowl: a tradition between rivals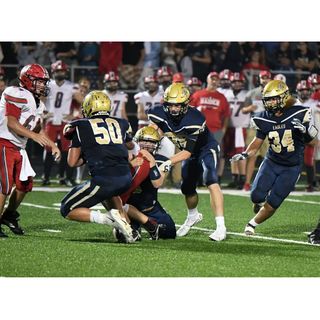 Each year, a Centre County rivalry is renewed in the Curtain Bowl, played between Bellefonte and Bald Eagle football teams. Bellefonte comes into this year's game having won the last seven meetings between the two schools.
This year, Bellefonte had a 2-5 record going into the game, compared to Bald Eagle's record of  6-1. Given their record, Bald Eagle was definitely in favor going into the game. This game means more to the teams than most games due to their rivalry. 
Bellefonte's Head Coach, woodworking and pre-engineering teacher Mr. Vaughn Donmoyer, developed a game plan for going up against Bald Eagle.
"We knew going into the Bald Eagle Area football game that it was going to be a good tough game.  They have a quick scoring offense and have been playing shutdown defense.  Offensively, we needed to slow the game down and take what they were going to give us," Mr. Donmoyer said.  
Mr. Donmoyer identified his team's biggest needs as, "needing to take care of the football, being physical up front in the trenches, knowing your responsibilities, and limiting penalties." Defensively, he mentioned, "being able to tackle well, being gap sound, reading your offensive keys, and not giving up the big plays."
This year, Bald Eagle finally beat Bellefonte, ending Bellefonte's winning streak of seven years in a row at the Curtain Bowl. The score was 48-0. 
"Well, things didn't go as planned," Mr. Donmoyer said. "Bald Eagle Area played a good game and we didn't do some things that were mentioned above.  As always, with a young team, we need to learn from the mistakes we made and get better every day.  Being 100% totally committed from every player is paramount with moving forward." 
It was a long night for Bellefonte, with Bald Eagle's freshman quarterback, Carson Nagle, making 2 touchdowns and running 168 yards. All around, Bald Eagle looked solid.
As the season comes to an end, Mr. Donmoyer describes how he hopes the team will improve next season. 
 "As a staff we will look at the offensive and defensive philosophies that were implemented this year and see what we need to improve on. It is always a good opportunity as a coach to improve and challenge oneself in the offseason to get better with the game," he said. 
Mr. Donmoyer also sees the needs from the perspective of the players. 
"We as a team need more players out for the program.  It will be nice to have the whole offseason to be able to implement the philosophies of the staff to the athletes while working hard at getting stronger, faster, and understanding the game of football."
Mr. Donmoyer and the rest of the football staff plan to recruit players as much as possible to increase player numbers for next season.