Game for a good cause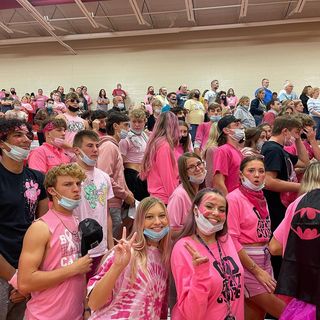 Coming off of the programs' first district championship and a state playoff appearance, there were high hopes coming into this volleyball season. After losing multiple letter winners from last year, the team was put in a tough position, but has competed incredibly well throughout the year against many tough teams.
The volleyball team, at the time of this article being written, has a record of two and ten, although they have gone to five sets with a handful of teams that made it to the state playoffs a year ago. This year, the Raiders brought back coach Monica Smith for her second season as head coach. 
The Raiders played their next to last home game on October 14 against Bald Eagle Area High School. In support of breast cancer awareness, the two teams wore pink shirts pregame and pinkout shirts were sold, with proceeds going to cancer research. The Bellefonte student section, known as Raider Nation, dressed in all pink for the game against the Eagles in support of their team. 
"People really followed the theme of the pink out. The section was probably the biggest we've ever had," Raider Nation head and senior Megan Marsh said. "The turn out was overall great. We filled our entire section of the bleachers."
The Eagles started out strong in the first set, but the Raiders battled back to make the first set close. Ultimately, the Eagles ended up taking the first set, though it was close, and  the second set was even closer. The Eagles had a commanding 13 point lead in the second set and still the Raiders came back to tie the set at 22 before falling just short losing the second set 25 to 23. Both student sections chanted loudly for their respective school, getting into the heads of some of the players.
"At times, yes I think the student section cheering for us is helpful," Coach Smith said.
The third set was more lopsided than the other two, with the Eagles commanding the whole set and ultimately   winning the match in three sets. The Eagles brought back multiple players from their state championship run two years ago with large amounts of experience in big games and loud atmospheres.
"I think our team played pretty well last Thursday but I don't think we played our best. We had highs and lows in our energy level and that held us back," Coach Smith said.
Overall, the gymnasium was packed with people supporting the Raiders and cancer research. Both teams brought in many fans, being a Bellefonte versus Bald Eagle game, a big rivalry game in Centre County.
"I was excited about the turnout and it was more people than I expected. I'm glad the community supports our team and a good cause," Coach Smith concluded.