Girls XC: Perseverance through a difficult season
The Bellefonte girls' cross country team faced many challenges in a season impacted by pandemic casualties, but persevered through the difficulty with success.
The team consists of eight girls, with four being returning runners while the others are new. The entire team consists of underclassmen. Throughout the season, the girls cross country team attended many meets and multiple invitationals, emerging at the end with a record of 4-2.
Despite still being in a global pandemic, the team was able to have more freedoms than the previous year. They were permitted to attend invitationals while also running maskless, though they were required to wear face coverings on public transportation. To conclude the season, the team will have an in-person banquet, different from their virtual event last year.
Junior Kate Rarrick enjoys the traditions of cross country that have been carried out over 31 years including their unofficial team mascot, "Ikky" the coconut. 
"My favorite thing about XC is our 31 year-old coconut, Ikky. We carry him around during warm up and do our team cheer with him. It's something very unique to our team and being part of such an old tradition is a great feeling," Kate said. 
Sophomore Josie Underwood wanted to expand her love of running by joining cross country.
"I joined cross country because I liked running, it was always something fun for me. The girls XC team just made it better because they motivate everyone and we have so much fun together," Josie said.
Returning runner junior Haley Herr describes her favorite parts about cross country.
"It's super fun, it challenges you and is very rewarding," she said.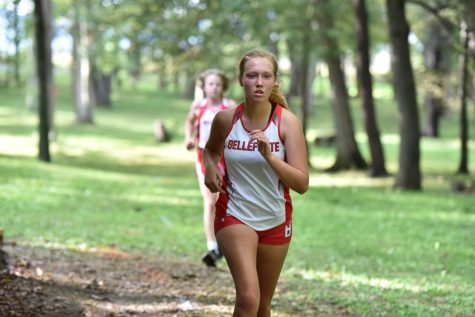 Girls cross country coach, video production teacher Mrs. Carla Cipro, is proud of the season the girls have had after coming back from a difficult time during the pandemic and loves to see the progress the girls experience throughout the season.
"My favorite part of being a coach is seeing runners progress during the season.  We race at Reedsville at the very beginning and the very end of our season and often runners will end the season with a PR [personal record] there. It's wonderful to see their hard work and effort pay off," Mrs. Cipro said.
Mrs. Cipro began her coaching career as a volunteer assistant and head coach for the junior high cross country prior to being a high school varsity coach.
"I enjoy the sport of running and wanted to continue to share that enthusiasm at the high school level," Mrs. Cipro said. 
Although the girls cross country team faced many challenges throughout this season they have come back stronger after the conflicts regarding the pandemic and persevered by trying their best at every meet.