Mallorie Smith: Bellefonte student turned AMCC Player of the Week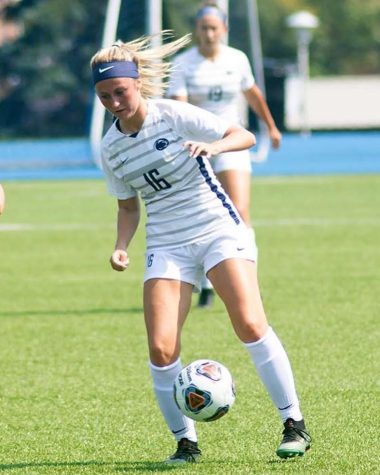 Penn State Altoona forward Mallorie Smith has been outstanding in her freshman season at Penn State – so outstanding that she was selected as Allegheny Mountain Collegiate Conference's Offensive Player of the Week in women's soccer on Monday, November 1. This came about after having scored a goal on eight shots, with six on goal, in a loss against Mount Aloysius. Following this, Smith would score two goals including the game winner in a win against La Roche. This is not the first time Mallorie has been selected for the award – she also won the award back in October.
"I was ecstatic, the first one took me by surprise since it was my first ever honor. This week was also a shock because I knew other players around the league performed well," she said. "I'm very humbled that the AMCC committee believed that my performance was the best, rather than the other great players."
Mallorie's multiple collegiate awards can be said that it comes from her athletic background. She has played soccer since she was four years old. Mallorie graduated from Bellefonte Area High School in 2020, and played soccer along with softball and basketball in high school. She has multiple outstanding accolades at Bellefonte. To name a few, she is all time leading scorer (116), all time assist leader (32), most goals in a season (32), and also a two-time Mountain League MVP in 2018 and 2019. 
She will now focus on next year's season as she plans to take her game to the next level and continue her resume.
"I have always wanted to just be the best player I can be, inspiring people around me. I keep surprising myself with the level that I'm playing at and I look to have a strong offseason in the gym and on the field in order to take my game to the next level for my junior season," she said.