Incoming changes to mask mandates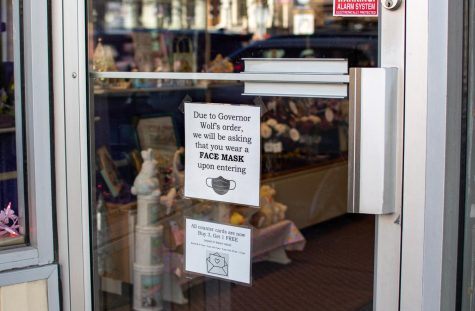 Pennsylvania State Judge Christine Fizzano Cannon made her decision on November 16, that the state mask mandate for all Commonwealth public schools will be lifted on December 8. Although the eligibility of the mandate is still in debate in the Pennsylvania Supreme Court, this order has been forced through, and will not be delayed until the final verdict is made.
The original mandate, endorsed by Governor Tom Wolf, was put in place in hopes of protecting the students returning to school after Labor Day, alongside protecting the younger students under 12 who were not eligible for the vaccine at the time. Now that the minimum age for vaccination has dropped to five years, children may be safe within public schools without their masks more than they were before due to vaccination rates.
The mandate was challenged by some state lawmakers, who argued that Acting Secretary of Health Alison Beam had acted out of her jurisdiction by issuing the mandate outside of a public health emergency, as the Governor's public health emergency orders had already expired.
Governor Wolf has also had plans to review the necessity of the mandate, deciding to lift the mandate on January 17. This decision was announced two days before the courts made their decision. 
"Now, we are in a different place than we were in September, and it is time to prepare for a transition back to a more normal setting. Unfortunately, the COVID-19 virus is now a part of our daily lives, but with the knowledge we've gained over the past 20 months and critical tools like the vaccine at our disposal, we must take the next step forward in our recovery," Wolf said.
After December 8, the authority of mask regulation will lie on school and district officials. Whether Bellefonte officials will issue their own mandates or go mask-free is still up in the air. Currently, the plan seems to be to revert back to the mask policy from before Labor Day, in which it's up to parents and students to decide the mask protocol best for them. Superintendent Tammie Burnaford had the following to say about the plans:
"If this all sounds confusing, it is. I'm simply trying to keep you informed of the most recent decision from the state level. The legal battles continue, and information for schools continues to change rapidly, as it has during this entire pandemic. But, as of right now, unless further legal action occurs before December 4, the Face Covering Order from the PA Department of Health will be lifted at that time. If so, our District will revert to our Board-approved, Health and Safety plan, making masks optional effective December 05, 2021."
This plan will be in effect for the rest of December, but is up to Board renewal or reviewal come January. From there, it will be up to the newly-elected board members to decide what is best for teachers, students, and parents alike.