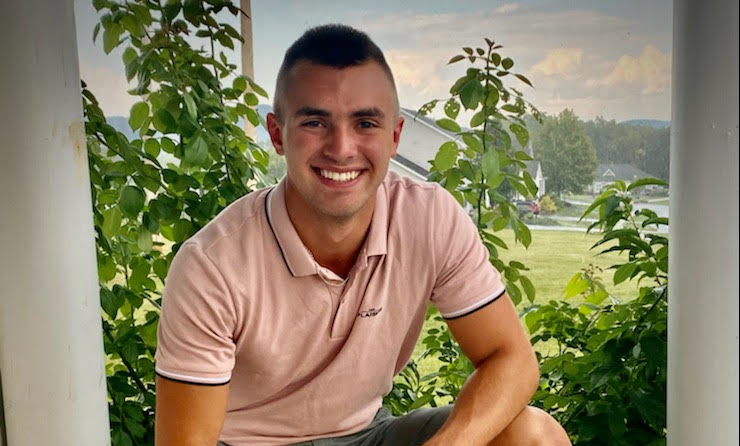 Submitted photo
When students finally reach their senior year of high school, they tend to fall into a "senioritis" spell and take the year in more of a laid back manner. However, for senior Ashton Kozel, it is quite the opposite. Ashton is someone that students should aspire to be like, and students will tell you how much of a role model he really is.
Ashton is a dedicated student at school who does not take the easy way out. He works hard and puts effort into everything he does. Students consider him a huge role model with leadership capabilities and someone who anyone can get along with. He is also an exemplary student when it comes to academics and sports.
 Ashton has been involved with three sports throughout his time at the high school. He recently finished his last season of football at Bellefonte, a sport he had played his whole life.
Senior Michael Henry had the chance to play alongside Ashton when they were teammates.
"He impacted the game by bringing a lot of energy to it. He is the hardest working person I've ever met. It was also a lot of fun to play alongside because he made me a better player," he said.
 He also is beginning his last season of track and field after three successful years of it. He participated in the 100, 200 and 40 yard dash during his freshman and sophomore year. In 11th grade he also participated in the long jump, and the four by 100 meter dash, and again with the 100, 200, and 40 yard dash. 
"I really enjoy track and field because it was something new to try. It was a way to create new friends and try out a new sport," Ashton said.
Ashton also wrestled during his freshman year. The athletic background Ashton has and the sports he played during his time at the high school are what defines his character and the type of person he is. 
"These sports helped me become the person I am now," Ashton said.
Ashton's personality is one of his many traits that make him such a role model for his community, school, and fellow students.
Classmate and senior track teammate Amber Corl had a similar answer, claiming that he "is a nice guy."  But it's not only the students who Ashton shares his respect and kindfulness with. He greets his teachers with a smile every day as he walks into a classroom.
"He greets me every day with a friendly hello," math teacher Mrs. Sue Besch said.
Mrs. Besch isn't the only teacher who speaks highly of him.
"Ashton always has a smile on his face. He is so kind and respectful to his teachers and fellow classmates," English teacher Mrs. Kelley Kreiger said.
Ashton's hard working attitude and his ability to work well with other students is one of the many reasons why he is regarded as an exceptional student. His story will continue after he graduates and pursues further education. He plans to attend Penn State University beginning in the Fall of 2022 for cybersecurity. 
"I chose Penn State because I really loved the college when I was little. I always wanted to go to Penn State," he said.
Senior Joseph Guebara sees Ashton every day and never takes a day for granted. 
"He is a good person who strives for what he wants and is a good friend," he said.
As Ashton nears the end of his senior year and gets ready to say goodbye to Bellefonte, his lasting impact and personality will be remembered throughout the school and solidify his legacy at Bellefonte High.