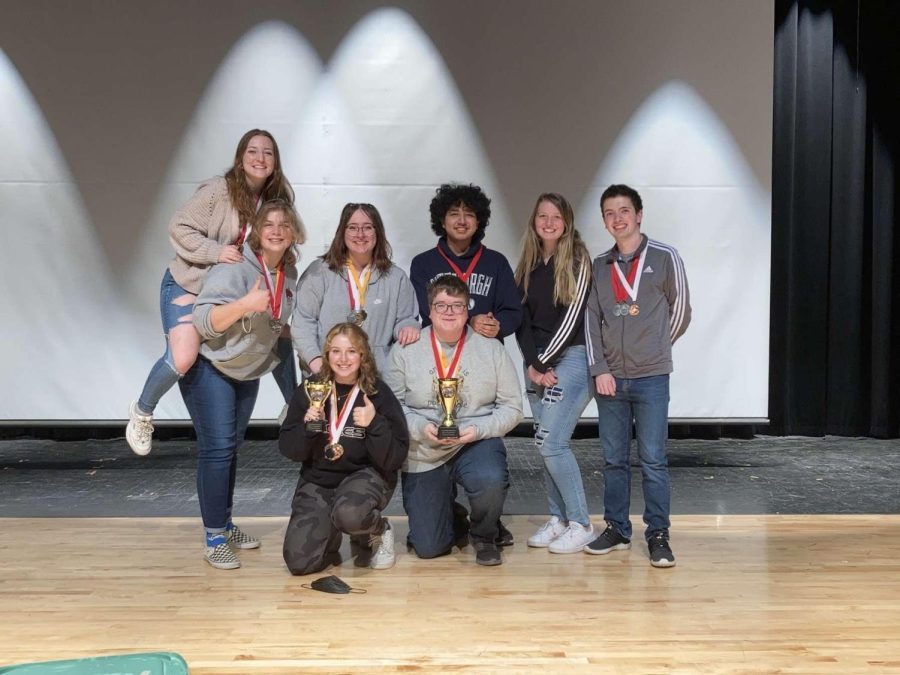 Submitted photo
On Friday, February 10, an Academic Decathlon competition commenced with the Bellefonte Area High School team entering. 
The Academic Decathlon is an academic team created for high school students, who participate in competitions throughout the year. At each competition, there are ten events which consist of art, economics, language and literature, math, music, science, social science, essay, and interview.The BAHS team placed in the top five out of eight schools in the competition. This gives them the rank to progress onward to the state competition, which will take place on March 11-12. This is the first time this has happened since the 1990s. 
"I am so glad we were able to compete in the state competition this year as well to travel together as a group," senior Hana Rados said.
In the Academic Decathlon, there are two main divisions of schools based on rankings from the previous season. The top four are in Nittany and the bottom four are placed in Susquehanna. The BAHS team has resided in the Susquehanna division since the 1990's. The students themselves are divided into three divisions based upon their GPA from the previous year. These divisions are varsity, scholastic, and honors. Within varsity, the ranking are senior Joseph Guabara with a score 3,810, senior Samantha Grieb with a score of 4,497, and senior Davis Folnsbee with a score of 5,269. Samantha and Davis both placed in the top of their division for the overall competition. Within scholastic, the ranking is senior Hana Rados with a score 4,179 and senior Rebecca Methven with a 4,333. Within honors, junior Noah Aberegg with a score of 4,393, senior Ella Underwood with a score 5,204, junior Davis Corman with a score of 5,453. Both Ella and Davis placed in the top of their division. The cumulative score came out to be 28,935: a large margin above the team placed below them.
This was Davis Folnsbee's first time in this type of competition after newly joining the team a week before the competition.
"It was really fun to see my ability be displayed and awarded and I suggest it for everybody," he said.
With the state competition just around the corner, the BAHS team will have to prepare. The team already does study sessions every Thursday for the Academic Decathlon. In these sessions, they go through all the topics but most students study specific topics.  They also study on their own for the competitions. For the state competition, they will try harder with their studying to prepare for the greater challenge. 
"States is very intimidating and much more competitive. Our team is very good, but we will be competing with much larger schools who give more focus to their Academic Decathlon teams. As long as my team tries their hardest and everyone has fun, I would consider States a success," senior Ella Underwood said. 
The team members all joined for different reasons. Some of the reasons include friend recommendations, finding knowledge into something more productive, or to prove oneself. These motivations are reasons to join the Academic Decathlon and sometimes there doesn't need to be a motivation; sometimes just wanting to join is good enough. 
"I honestly joined it for two main reasons: to feel academically proud of myself and last year's online time and because I was recruited by a couple friends to keep the Academic Decathlon legacy alive," Hana said.