Students in the courtroom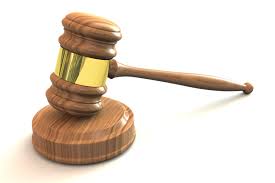 Defense. Prosecution. Attorney. Witness. Mock Trial is a club that involves all of these to imitate a courtroom trial amongst a group of students. 
On Tuesday, February 17, Bellefonte's Mock Trial team participated in a virtual competition against the Dubois Catholic High School. 
At these competitions, a group of students engaged in a trial as prosecution or part of the defense team. History teacher Mr. Matthew Maris takes part as the advisor of the Mock Trial Team. 
The team competes against other schools in the trials and is scored by real-life judges and attorneys. At the most recent trial, the students did not win as playing a role as the prosecution, but the team did win as representing the defense. 
"Essentially, students participate in Mock Trial by acting as lawyers and witnesses in a simulated case. Cases change from criminal to civil each year. Students read and learn about the case materials before the trial, and then compete against another school to argue their side of the case. The trials are presided by a real-world judge and are scored by a jury of real-world attorneys in the legal field. Recently, the trials have been done virtually (due to COVID-19) but would normally take place in places like the Centre County Courthouse or other sites," Mr. Maris said.
Although the team experienced both wins and losses at the recent trial, some individual students were awarded certain titles. Junior Davis Corman was awarded the best attorney, junior Madison Melius was awarded best attorney, junior Cecilia Stanton was awarded best witness, and freshman Mary Dickman was awarded best witness. 
Mock Trial has impacted the students in different ways and the students have joined for a variety of different reasons.
Junior Jacob Skrzycki joined Mock Trial this year because he wanted to learn about what happens in court.
"I joined Mock Trial this year because my friends were in it and I wanted to learn more about the courtroom," Jacob said.
Cecilia has a lot of fun in this club although she has yet to participate in an in-person trial since she joined the club as a freshman.
"I joined Mock Trial because I enjoy acting and being a witness in a mock trial is a great way to do so. I also enjoy practicing my public speaking skills as well as helping craft an argument based on the information/testimonies given within the trial," Cecilia said.
Mock Trial has taught the students many things about the courtroom and public speaking. If you are interested in participating in Mock Trial, contact the supervisor Mr. Maris by email at [email protected] or stop by Room 138 to learn more information and get involved in joining the club.