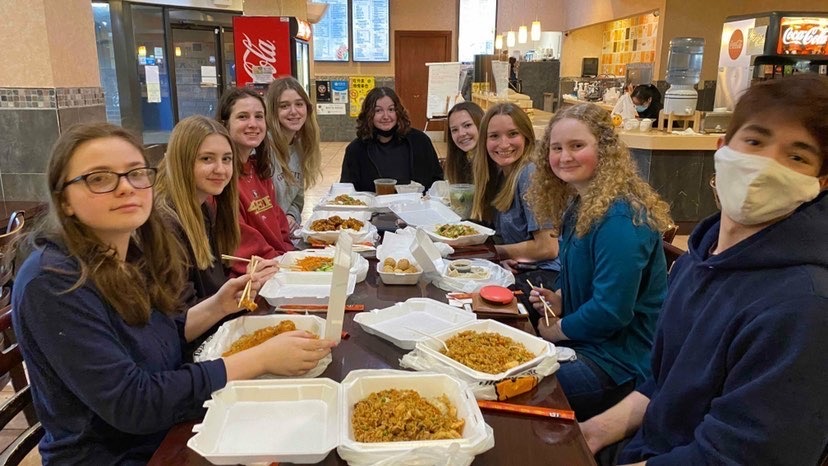 Photo by Chen Lao Shi
Experiencing a different culture is something that most students can only dream of achieving. Unfortunately, with COVID regulations, travel restrictions loom over countries and the chances to take global trips have been restricted, if not completely eliminated. However, students in the Chinese 3 class got to have a small taste of Chinese culture with a trip to Mr. Wish Tea Shop. This is the first time that a class in the Chinese program has taken a field trip.
On March 31, students of the Chinese 3 class took a trip to Mr. Wish to experience boba tea, which was a first for multiple students in the class. Although slightly apprehensive, students tried and enjoyed the tapioca milk drink, describing it as "sweet" and "chewy."
"I got one that was called Black Tiger Milk Tea. I got the tapioca balls in mine. They didn't have a strong taste so I liked them too," sophomore Josie Underwood said.
Boba tea, commonly known as "bubble tea," originated in Taiwan in the early 1980s, but eventually became popular in China and other Asian countries. Currently, the drink has spread in popularity to other countries as well. Mr. Wish is one of many that sells the beverage in State College.
For these students, however, experiencing boba has a bigger meaning than just drinking a drink. It allows students to have a small taste of another culture without actually traveling there, something that is rather unrealistic for many students. 
"I didn't get tea. I got a peach smoothie. The smoothies were very sweet. It had small pieces of peach in it. The serving was also pretty big. It wasn't very different from the smoothies that we normally drink," sophomore Micah Weaver said.
Ms. Chen, also known as Chen Laoshi (陈老师), believes that exposing students to something even as small as a drink from China can help students become more immersed in the culture.
"My main objective is for my students to be able to immerse themselves in using the Chinese language both during and after the field trip. They were able to use what they learned in the real-world setting by reading the menu, conversing with the restaurant staff, ordering food, and paying the bill in Chinese language," she said.
Although joining the district in 2019, Chen Laoshi has made strides with the Chinese language program. Through connecting with students and creating a positive learning environment, she's completely turned the program around and made students appreciate the Chinese culture and language more.
"I have always loved the class environment that Chen Laoshi provides. I think it's great to learn about new cultures and how they interact with each other. This class has taught me a way to communicate with others who I would generally not be able to talk to," Josie said.
Chen Laoshi has been welcomed into Bellefonte with open arms and has touched many students and revived the previously struggling Chinese program. Through such small tasks as taking field trips, something that Chinese classes haven't done, she's exposing students to an entirely new culture beyond just the classroom.
"It is my hope that students will benefit from the Chinese language skills in their future study and work. I also hope that students continue to practice and learn the language in college and have a chance to travel to any, if not all, Chinese language spoken countries; China, Taiwan, and Singapore, to explore the different cultures and appreciate the second language they have worked hard for during the school year," Chen Laoshi said.