Raider reaches historic achievement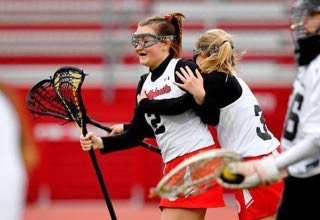 The Bellefonte girls' lacrosse varsity team is off to a hot start as they started the season 3-0, with wins over Lewisburg, Mifflin County, and Selinsgrove. However, standing out among these wins is  senior Molly McKee who reached her 100th goal in a 18-11 win over Selinsgrove. 
During this monumental moment, fans in the stands held up signs and cheered on Molly as she scored her milestone goal. As the ball went in the net and past the goalie, all of her teammates would surround her to celebrate her huge milestone. Molly currently is the record holder at Bellefonte with the most lacrosse goals scored with 100 and counting. For Molly, the milestone is very significant to her and if it wasn't for her teammates and coaches she might not have reached it.
"It is very important, but not just to me, but to the whole team and program. Achieving this milestone has been one of my biggest goals, but it shows that the program has developed well and that anyone in Bellefonte Lacrosse can achieve it," she said. 
Molly would not have been able to accomplish such an achievement without the help of her fellow lacrosse teammates and coaches. 
"My teammates, my coaches, my parents and most importantly Elle Macafee have helped me the most along the way. She has close to 100 assists in her career, and she is always looking for me to score," she said.
The senior has a huge impact on the game but as well on her teammates just as much. 
"Molly has taught me so much about lacrosse, she is the reason I started to play in sixth  grade. I've learned a lot about the game from her," said senior Kayle Frantz. 
Her scoring skills do not go unnoticed, noticed by the fans in the stands and also her teammates, her skills stand out to everyone.
"What stands out to me about her performance on the field is her persistence and her ball handling skills," Kayle said.
Senior Hana Rados also witnesses Molly's outstanding skills.
"She puts so much energy into what she does and she is very committed to playing her hardest," Hana said.
Molly has been playing lacrosse for a total of eight years; she played with the State College Elementary School Club, the Warriors. She started at the goalie position but at the high school level she changed positions. Since the fourth grade she has always been focused on improving her game. Improving goalie skills like blocking attempts on goal or wanting to get better at clearing the ball. On the offensive side of the ball, she was focused on improving her scoring skills, specifically on getting better with penalty shots.
With the rest of the season to come, she switches her focus on the rest of the regular season, winning more lacrosse games, and setting goals for the season.
"Some goals I have are to get the best record we've ever had and make it to District finals," she said.
With her final lacrosse season, her teammates reflect on what they will miss the most about her.
"I will miss Molly's jokes the most," Kayle said.
Hana will also miss her sense of humor. 
"She's definitely a big part of the team's morale and I'll miss it," Hana said.