Students lead local charity festival
It was cold, wet, and windy on April 9, and ten high school seniors were set to hold the first Bellefonte Senior Institute charity festival. The students hoped to aid the Centre County Housing Transition initiative, which lost a large part of its central complex to a devastating fire earlier this year. The company works throughout the county to give individuals safe, temporary homes or to find permanent ones – for free – so when the Senior Institute class heard the group needed help, they stepped up to the challenge.
"We wanted to raise money and awareness for the Housing Transitions, while also helping local and student artists," Senior Institute student David Galchenko said. "So we thought a festival to feature all these people would be great."
The class soon began work on the festival, planning layouts and contacting over 50 local food and craft vendors, musicians, and businesspeople to fill tents that were arranged in the high school courtyard. The students ultimately secured over 33 merchants for their event, with several Bellefonte students among them.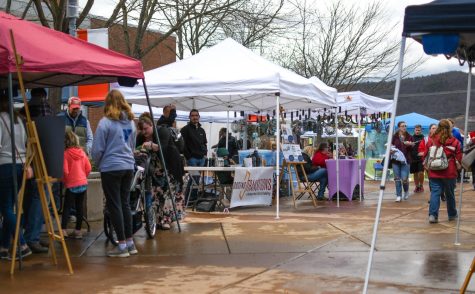 By the festival's closing that afternoon, the Senior Institute had raised over $2,800, all of which was donated to the Housing Transitions. The great success was largely in part to all those who had attended, and particularly the students who had worked to lead the event. 
"I loved seeing all of the community who came out. It made me happy to see that we had achieved what we wanted to do," Hana Rados said, a member of the Senior Institute class. "But I want to thank Mrs. Lloyd and Miss Fry for giving up so much of their class time to help us plan this."
Mrs. Heather McClure (Fry) and Mrs. Jessica Lloyd are co-advisors of the Senior Institute class. Both have worked in the position for several years, but were never before given the opportunity to create something to the scale of April's festival. So when students approached them on the idea, both enthusiastically agreed.
"One day in class, the students brought up the idea of a festival and we couldn't stop thinking about it. In one period we had planned to have food trucks, crafters, and local businesses. From then on out, we knew a festival was the path we wanted to go down," Mrs. Lloyd said. 
The rest, really, was history. Congratulations to the Senior Institute class for their monumental success of kindness and charity.