Philly on top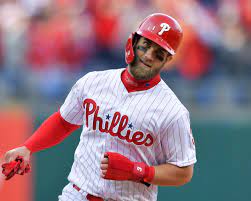 Alex Ebeling, Student Engagement Coordinator
November 3, 2022
The Philadelphia Phillies are exceeding all expectations in the 2022 season. 
They started the season on a rough 22-29 record through the first 51 games. After this rough patch they decided to fire General Manager Joe Girardi. To replace him, they hired Rob Thompson, which seemed to create an entirely rejuvenated team and brought a brand new energy to the team. As a result they turned the season around and finished the season with a 87-75 record. Junior at BAHS, Grady Garrison, believes that Rob Thompson was the pivoting point for the team.
"I never thought the Phillies would be where they are right now without the new hiring," Grady Garrison said.
Although this was not the best record,it did earn them a playoff spot against the St. Louis Cardinals. Throughout this series there were ups and downs like most cases. The games were both highly contested and the Phillies managed to muster together six runs in the top of the ninth inning which gave them the win in game one. The second game was a smoother ride, as the Phillies coasted over the Cardinals by winning 2-0.
"The feeling when they moved on felt like the beginning of a snowball effect and the Phillies were bound for great things this year," junior Jacob Corman said.
After they beat the Cardinals the Phillies ended up faced against the defending world series champions, the Atlanta Braves. This series is a best of five games. The Phillies ended up beating the defending champions in four games, beating them 3-1. A few of the students at Bellefonte ended up attending the elimination game. 
"I have no words to describe the atmosphere, there are no words that describe the feeling of experiencing the Phillies beat the defending champions. It was a surreal experience all around." Jacob said.
Another student, junior Trevor Johnson also attended the game. 
"The joy and excitement rushed throughout my body as Bryce Harper hit a monster homerun, as I started jumping around," Trevor said.
The next series they played the San Diego Padres. The Padres were the favorites as were every opposing team to the Phillies. The Phillies took another step closer to completing the Cinderella story and beat the Padres in a seven game series 4-1.
The Phillies have not made the playoffs since 2011. They also have not been in the world series since 2009, where they ended up losing to the Yankees. As a result of this, the city of Philadelphia is raging. Many fans of Philadelphia sports teams, especially the Phillies, are crowding the roads, climbing street lights, chanting, and celebrating the world series' birth. The police tried to prevent the climbing of street lights by applying grease onto the street poles. This obviously did not stop the frenzy of fans.