NBA returns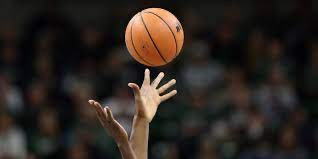 With fall sports coming to an end, that means one thing: It's time for basketball season to roll around. 
The NBA tipped off on October 18, bringing a lot of hype for fans around the world. The opening day of the season included the Philadelphia 76ers taking on the Boston Celtics and the Golden State Warriors taking on the Los Angeles Lakers. The Celtics took the win against the 76ers and the Warriors took the win against the Lakers. 
Many students at Bellefonte High were excited for the NBA tip-off this past week. Student basketball player and junior Ethan Tomasacci was one of them.
"I have been anticipating the NBA tip-off for a while now. I was excited to watch my favorite team, the 76ers, play against the Celtics. They ended up losing, but they looked very good so I am excited to watch how the rest of the season goes," Ethan said. 
There were a lot of excited fans ready to watch some of their favorite players, such as James Harden on the Sixers, facing the pressure of playing the Eastern Conference Champion Celtics. The Celtics took the win in their home stadium and crowd.  
The Golden State Warriors received their championship rings from their champion season last year before hosting the Los Angeles Lakers. Their home crowd was electric for the start of their new season and are hoping for it to be like their last.  
Junior Jacob McConnell has high hopes for the Warriors' season.
"The Warriors are going to be a top three seed contender in the Western Division," Jacob said. 
The winter season is kicking off fast, as we are already two weeks into it. Basketball fans are excited to see how the season progresses and which players live up to the expectations some may have. Fans each have their different speculations about this. 
"Devin Vassell is going to be the most improved player and Lauri Markkenen is going to be an all star," Jacob said.  
Fans are also entertained by the betting they make during the season.  Fans can bet on who they think will win games and even pick who will win accolades.  There is also fantasy basketball, which is a parallel with fantasy football. 
The NBA is filled with exciting basketball and always seems to satisfy their crowd. With the season rolling on fast, fans are excited to see how it goes.