Kyrie Irving dropped by Nike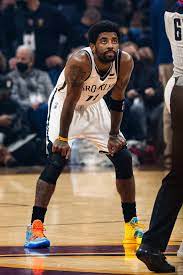 Brooklyn Nets Superstar Kyrie Irving has been in sports news recently. According to Retaildive, "Nike has hit pause on its relationship with Brooklyn Nets player Kyrie Irving and pulled the release of its 'Kyrie 8' shoe over the basketball star's discussion of a film widely considered to be antisemitic." 
The documentary, Hebrews to Negroes: Wake Up Black America, promotes Holocaust denial and other conspiracy theories. 
The film is still available to watch on Amazon, though many people like members of the Anti-Defamation League and American Jewish Committee believe that it should be taken down. 
Kyrie has had a partnership with Nike for many years, and has released all of his shoes through Nike. Irving signed with Nike in 2011 and has been with them since. He made about 11 million annually with Nike due to his endorsement deal.
Kyrie has been getting a lot of backlash from the NBA as well. The Brooklyn Nets suspended Kyrie for a minimum of five games. According to the NBA on Novermber 14, "Nets owner Joe Tsai tweeted on Friday that he and his wife, Clara, met with Irving on Thursday. Tsai added, 'it's clear to me that Kyrie does not have any beliefs of hate towards Jewish people or any group.' Nonetheless, the Nets have said that Irving also has to meet with Jewish community leaders before returning to the team." 
"I would doubt that we go back, but I don't know for sure," co-founder of Nike, Phil Knight, said about the decision to drop Kyrie's brand deal.