Mr. Ganieyou Salamy: a teacher with chemistry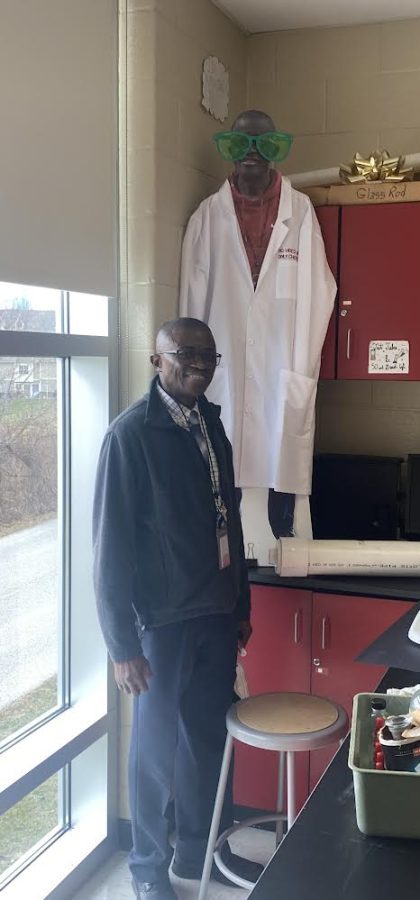 No one at Bellefonte High School teaches with more metaphorical or literal Chemistry than science teacher Mr. Ganieyou Salamy. Many know Mr. Salamy as a teacher, but his positive attributes transcend this. So, who is Mr. Salamy?
Mr. Salamy is in his eighth year of teaching at BAHS, having started here in 2014. He has been teaching for 33 years now. Prior to beginning at Bellefonte, he taught for 20 years in Cote d'Ivoire (Ivory Coast) in west Africa, as well as for 5 more years in the United States. 
Physics teacher Mr. Kevin Harman believes that, upon meeting Mr. Salamy, his enthusiasm and enjoyment of teaching is obvious. 
"My first impression was a man who had lots of energy and cared deeply about science and his students," Mr. Harman said. 
Having dedicated his life to teaching, Mr. Salamy says that he knew from a young age that he was interested in this as a career. 
 "I am naturally a person who cares about others. When I was a student in high school I discovered how happy I become when I am able to explain a difficult concept to classmates. I think my passion for teaching started there," he said. 
Mr. Salamy currently teaches Chemistry, College in High School (CHS) Chemistry, and Advanced Placement (AP) Chemistry. He says he enjoys teaching at all levels, but particularly his AP course. 
"I like to teach all levels, but I enjoy the challenge of the AP course. Students are trained to critically think and to solve problems by applying the concepts learned," he said. 
Senior Kate Rarrick took AP and STEM Chemistry with Mr. Salamy. 
"He's the best…I know a lot of people really like his classes," she said. 
Mr. Salamy also puts extra effort into helping his students when it is needed. 
"Mr. Salamy cares a great deal about helping students. He challenges them to grow but is willing to work with them to help them rise to the occasion," Mr. Harman said. 
In his time working at Bellefonte, Mr. Salamy has valued the atmosphere of the school community. 
"What I enjoy the most here is a good spirit of respect and caring among the staff and the students. I value the role model that we as teachers are," he said. 
As we show appreciation for Mr. Salamy, he wanted to show his appreciation for those who support his teaching at BAHS. 
"I am happy and grateful to work here. I would like to take this opportunity to thank everyone who is openly or anonymously helping me do my job with peace of mind," he said. 
It is clear that Mr. Salamy is a man and teacher with no shortage of positive qualities. 
"Mr. Salamy is fun, driven, hardworking, and passionate, among many other positive characteristics," Mr. Harman said.