Student artist Affina Garvin shines in both studio and classroom
Art rooms are often bustling with excitement and high energy. The people in them are always flowing with creativity and new ideas. One prime example is senior Affina Garvin. 
Affina is known around the school for her incredible ability to make art with many different medias. Her artworks are hard to miss, especially with her ability to portray emotions and tell a story through them.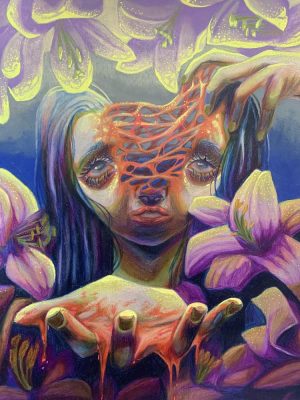 Still, Affina excels in many other creative ways. BHS English teacher Mrs. Kelley Kreiger reminisces about how Affina brought creativity to other aspects of school, such as in AP Lang last year.    
"Whether it be in her writing, discussions, or artistic projects, she was always willing to add another level of creativity to her piece," she said.
Affina is involved with many advanced and skill-based classes that are offered at BHS. She is in AP Art and AP Statistics, and she is also a part of the school's joint English and art class, Senior Institute. Fellow member of both AP Art and Senior Institute Kara Leonori explained what it was like to work alongside Affina.
"Affina helps out with suggestions and critiques a lot. It is very helpful," she said. 
Many believe that art reflects its creator, and Affina is no different. She believes that a person's artwork will always have a piece of them in it, be it from experiences or emotions. 
"Every person has unique experiences and viewpoints and those idiosyncrasies are reflected in how each artist creates," she said. 
Affina also reflects on how she feels her art reflects about her as a person.
"I am a very colorful person and you can see my love of color in my art," she said. "My art reflects me as a person…but depending on the piece, it will show a different side."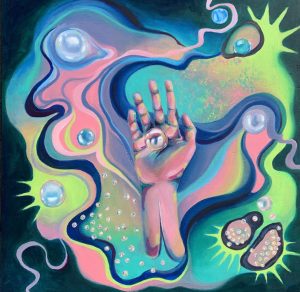 Senior Maya Knupp talks about what it is like to be friends with Affina. 
"With Affina, there is never a boring moment. She is always very energetic," she said.
Outside of school, Affina likes to hang out with her boyfriend and watch Formula 1 racing. Affina is very passionate about the European car races, and likes them because she finds the personalities of the racers entertaining. She also talks about how challenging it is for the racers to be in it.
"There are a lot of strategies that go into racing that people might not appreciate- it's more than driving around in circles!" she said. 
Art teacher Mrs. Heather McClure says that Affina has a great ability to persevere under intense time limits and her ability to receive and interpret critiques. 
"Affina has a drive to succeed in her own right as an artist and to challenge the status quo for others. I will be looking forward to seeing how Affina's future unfolds," she said.