ReFarm Cafe brings food from farm to table
Tucked within carefuly tamed woodland and well-kept farmland is the ReFarm Cafe, a bustling farm-to-table restaurant with a cozy interior and gorgeous exterior. From dinner to a wedding, they provide both a high-quality meal and a wonderful view.
Beginning in 2014, Monica and Duke Gastiger came up with the idea for a restaurant that sourced its ingredients locally, and with respect to the environment. With their combined experience in the food and beverage industry, they purchased the former bed-and-breakfast Windswept Farm, hired experienced farmers, and began repurposing the old farmhouse to be used as a restaurant.
Throughout the process, the couple held many workshops to compile ideas for the design of a cafe and how to optimally replenish the farmland, which at the time of purchase was in a poor state. Monica discussed the benefits of these workshops in a promotional and informational video posted on the ReFarm YouTube channel.
"It really gave us hope that, yeah, there's a lot of possibility that this community support," she said.
The restaurant officially opened in 2019, with a host of unique aspects when compared to other restaurants in the area. For example, Re Farm Cafe runs on reservations only, meaning that the staff can prepare for the number of people coming in order to prevent over harvesting and food waste, as all food is collected on a fresh and daily basis. The cafe also has a rotating fixed menu, allowing for the use of fresh, in-season ingredients for as long as they are available before moving to a new set of dishes.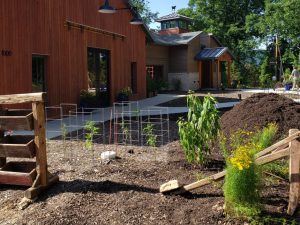 The interior of the Cafe has an open kitchen, allowing patrons to watch the chefs prepare their meals right in front of them. On warm days, the outdoor seating options give a wide open view of the rolling farmland and wilderness, carefully managed to best protect the pre-existing environment.
On your way into the cafe you can spot the free-roaming animals, like chickens, guinea hens, sheep, and even some wild turkeys sneaking around for a meal. Gardens with both edible flowers and various herbs surround the property for cooking and garnishing. Rolling fields of farmland provide both ingredients for dishes, and a wonderful backdrop for fine dining. The rustic exterior of the cafe with dark wood and large windows allow natural light to peek through before the sun sets, and the gentle lighting outside provides a wonderful atmosphere for their outdoor diners.
Re Farm Cafe doesn't only focus on dining. The establishment hosts cooking classes, summer camps, and catered events throughout the year. The farm has been the site of many weddings, celebrations, and meetings, each provided for by the ingredients collected from the farm, powered by natural energy from solar panels, and managed by the cafe's doting staff.