Painting Bellefonte into the holiday season
The 2022 holiday season began in Bellefonte on Thursday, December 1 when BHS art students traveled to downtown Bellefonte to spread holiday joy. Students spent the day painting the windows of businesses throughout downtown, joining the community in getting the town ready for the holiday season.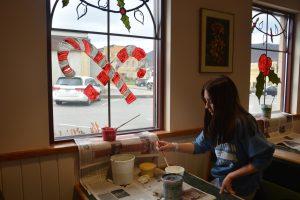 BHS art students of every grade worked collectively to make designs and to decide how best to paint the windows of multiple businesses. Senior Maya Knupp speaks about her favorite parts of the experience. 
"My favorite part of the day was walking and bonding with everyone involved with window painting. As my group worked on ours at the YMCA, we had many visitors walk by and talk to us about our design or comment about it on the way out," Maya said. 
Students worked throughout the day and the community responded swiftly. Customers and bystanders complimented on the student's work and how they appreciated it. Students also praised others' works. Freshman Ella Novitsky had a favorite design from the day. 
"My favorite design was the Pizza Mia design because I like that they used the duck logo in their design," Ella said. 
Each business had their own special twist on holiday fun. Students made their designs fit the business they painted. Senior Hannah Deitrich gives insight on her design for the Bellefonte Wok.
"We painted a Christmas snowscape with many details, one of the most important to us was the fortune cookie that read 'Happy Holidays' on the sheet of paper inside. We painted this scene because we wanted to include a lot of different things that revolve around the holidays and also have bright pops of color that weren't traditional holiday colors," Hannah said. 
The art department was happy with the successes of the day. Art teacher Heather McClure looks forward to this event each year. 
"My favorite part is seeing the kids collaborate with businesses downtown and sharing their skill through the unique designs they paint," she said. 
When driving through Bellefonte's downtown you will now be surrounded with art along the windows. Take a moment and pause to look at the work of Bellefonte art students, and take in the holiday joy, when passing.