Jeremy Renner's accident proves the danger of heavy machinery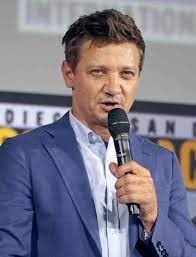 Superheroes exist in real life too, not just on the big screen. On New Year's Day, Jeremey Renner, who is a well-known actor in the Marvel Cinematic Universe for playing Clint Barton/Hawkeye, was hospitalized and in critical condition after an accident involving his snowplow. 
It was said that Renner was using a PistenBully – a very large snow plow –  in an attempt to free his nephew's truck from where it was trapped. After he was able to get the truck free, he exited the SnowCat and soon realized that the large plow had started to roll away while he was not in the seat. Noticing that it was starting to approach his nephew, Renner attempted to stop the machine. A witness reported that they recalled seeing him attempt to climb into the plow and got caught in the tracks. His nephew was able to aid him until true medical help was able to arrive. 
Renner was transported to the hospital by air, as many roads were closed due to the weather at the time. When he arrived at the hospital, he was immediately taken in and deemed to be in critical condition. Renner suffered from the crushing of both legs and blunt chest trauma, and ended up going into surgery to treat the injuries. It was reported that Renner broke 30 bones in the incident.
While Renner's accident is truly terrifying and we can only wish the best for his recovery, it calls for a thought about our locals who also use heavy machinery – oftentimes on the daily. With Jeremy Renner being such a known face in Hollywood, it goes without question that his story would make the headlines, but what about lesser known faces, like our neighbors?
Since Central PA and the surrounding areas of Bellefonte are major farming lands, it's a wonder how many people also suffer from accidents pertaining to heavy machinery and how many of these incidents go without being talked about. Typically, a farm will have at least 10 machines that are considered to be "heavy" in order to go about their daily farm chores. From equipment for ground breaking, like an excavator, to equipment used to spread manure. These machines are all very large in size and in turn, can be dangerous. According to the Occupational Safety and Health Administration (OSHA) and the Bureau of Labor's 2022 News Report , there are around 800 casualties and 18,000 accidents related to heavy machinery in the United States each year. 
Big machines used for farming are not the only types of machines that are inherently dangerous, your own riding mower for your lawn can also be very dangerous. The American College of Ankle and Foot Surgeons report that nearly 37,000 accidents involving a riding mower occur annually. 
Putting the numbers into perspective, it's easy to see why these events don't get very much coverage – if any at all. We as a species, at least in the United States, have almost become destigmatized to accidents and the injuries or deaths that are the cause of them. Mrs. Poorman, who teaches agricultural sciences at the high school, gave her thoughts on the statistics above and her views on farm safety. 
"There are always risks in any industry that uses heavy equipment and machinery. Farm safety is something that is very important," she said.
Mrs. Poorman also talked about how there are a lot of different types of training to give farmers a better understanding of the machines that they are using – it's all up to whether or not the farmer utilizes these opportunities.
With most of these farmers' work being for the benefit of society and getting the tasty vegetables to our tables, it is important that the general public is aware of the everyday dangers presented by their jobs.